This beef bowl, featuring Korean-inspired flavors, uses ground beef to cut down on prep time. Thin sliced raw vegetables don't have to be cooked/heated and work great for a quick lunch.
Servings: 5 servings
Serving Size: ⅔ cup rice, ½ cup beef, ½ cup veggies
Prep Time: 15 minutes
Total Time: 25 minutes
Nutrition Facts: 328 calories / 40.5g carb / 23.5g pro / 7.5g fat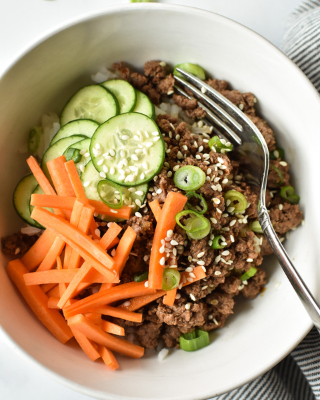 Ingredients:
1 cup (180g) jasmine rice
1 pound 93% lean ground beef (454g)
¼ cup (56g) soy sauce
2 tablespoons (28g) rice vinegar
1 teaspoon toasted sesame oil
2 garlic cloves (minced)
1 teaspoon honey
¼ teaspoon chili flakes (optional)
1 large (120g) carrot (peeled and sliced thin)
1 small (160g) cucumber (thinly sliced)
Optional garnishes: sesame seeds, sliced green onions
Instructions:
Cook rice per package directions.
Meanwhile, heat a large nonstick skillet over medium high heat and add the ground beef. Cook until browned, crumbling with a wooden spoon occasionally (about 5-7 minutes).
While the beef cooks, combine soy sauce, rice vinegar, sesame oil, garlic, honey, and chili flakes to a small jar. Cover with lid and shake well or use a fork to whisk until combined.
Pour sauce over the cooked ground beef. Stir to fully incorporate. Let it cook 1-2 more minutes until dark, crispy and caramelized. Remove from heat.
To serve: spoon beef over rice and top with cucumbers and carrots.
Notes
If available, use a mandoline slicer to prep the vegetables. This saves time and also allows them to be sliced extra thin.
This is a great meal prep recipe since you can also enjoy it cold. To serve warm: keep the vegetables separate and add them after the rice and beef is heated.