Get ready for some major throwback vibes because these crispy, delicious, health-ified chicken nuggets will have you feeling like a kid again! Make a double batch and freeze the rest for ready-to-eat nuggets whenever the craving hits!
Servings: 4 serving
Serving Size: 3-4 nuggets (75g)
Prep Time: 7 minutes
Total Time: 15 minutes
Nutrition Facts: 142 calories / 9g carbs / 16g protein / 5g fat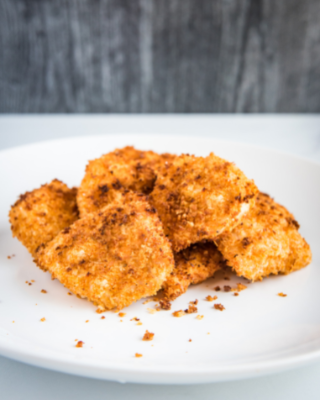 Ingredients:
½ cup (60g) panko breadcrumbs
2 tablespoons (12g) grated parmesan
2 teaspoons (9g) avocado oil
¼ teaspoon salt
¼ teaspoon paprika
⅛ teaspoon ground black pepper
8-ounces (226g) raw boneless, skinless chicken breast (trimmed of any excess fat)
1 (33g) large egg white (lightly beaten)
Ketchup, for serving (optional)
Instructions:
Preheat the air fryer to 400 degrees F and lightly grease the basket of the air fryer with nonstick cooking spray.
In a wide, shallow dish, stir together breadcrumbs, parmesan, oil, salt, paprika, and pepper.
Slice chicken breast into ½-inch strips, then cut each strip into 2-3 nugget-sized pieces. Place nuggets into a large bowl with the egg white and toss to coat.
Working in assembly-line fashion, take a piece of chicken (let any excess egg white drip off) and dredge in the breadcrumb mixture, turning and pressing into the crumbs until well coated. Transfer to the air fryer basket and repeat for the rest of the chicken.
Cook 7-8 minutes, flipping halfway through, until nuggets are golden brown and crispy, and the internal temperature reads 165 degrees F.
Serve hot with ketchup or any dipping sauce of your choice (macros not included).
Notes
Nuggets will keep in the fridge in a sealed air-tight container for up to 3 days or in the freezer for 3 months. To reheat from frozen, cook in the air fryer at 400 degrees for 10-12 minutes, flipping halfway through.
Don't be tempted to over-fill the air fryer basket or your nuggets won't turn out crispy. Depending on the type and size of the air fryer, it might be necessary to cook chicken nuggets in multiple batches.