Mac and cheese that hits your macros?? It's Christmas come early! Our kid-friendly Lightened Up Mac and Cheese is creamy, cheesy, and checks ALL the comfort food boxes. And yet it's lower in carbs and higher in protein than traditional mac and cheese recipes. The secret is in the sauce! And an extra serving of veggies 😉
Servings: 8
Serving Size: 1 ¼ cup (210g)
Prep Time: 25 minutes
Nutrition Facts: 326 calories / 37.5g carbs / 21g protein / 10.5g fat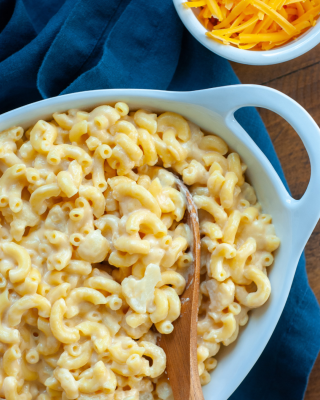 Ingredients:
11 oz (312g) uncooked elbow macaroni pasta
3 cups (258g) frozen cauliflower florets (one 10-oz package)
1 cup (226g) 1% cottage cheese
3 tablespoons (43g) butter
¼ cup (31g) flour
2 cups (490g) nonfat milk
2 ½ cups (283g) shredded reduced fat sharp cheddar cheese
½ teaspoon salt
¼ teaspoon pepper
Instructions:
Cook pasta according to package directions in a large pot with extra water. Add the cauliflower to the pot for the last 4 minutes (you will need to bring the water back to a boil after adding the cauliflower.) Strain the pasta and cauliflower and set aside.
While the pasta is cooking, puree the cottage cheese until smooth (about 1-2 minutes) using a blender or food processor.
Melt the butter in a medium saucepan over medium heat. Add the flour and cook for 3-5 minutes, stirring often, until the mixture is golden brown.
Slowly add the milk, stirring constantly with a whisk. Continue cooking over medium heat, stirring constantly, until the sauce is thickened and comes to a gentle simmer.
Stir in the shredded cheese, pureed cottage cheese, salt and pepper. Taste and season with additional salt and pepper if desired.
Mix the cooked pasta and cauliflower with the sauce and stir until well combined.
Serve garnished with shredded cheese, chopped parsley, red pepper flakes, or hot sauce if desired. Enjoy alongside a side salad or green veggie for extra crunch!