Sick of washed out, bland salads? Our BBQ Ranch Chicken Salad will put some pep in your step! Colorful lettuce, corn, tomatoes, black beans, shredded cheddar, and chicken are tossed with an easy BBQ Ranch dressing. Restaurant quality with a fraction of the fat! This recipe is perfect for Mason jar salad meal prep too – check out the recipe notes for quick tips.
Servings: 1
Prep Time: 10 minutes
Nutrition Facts: 439 calories / 43.5g carbs / 37g protein / 14.5g fat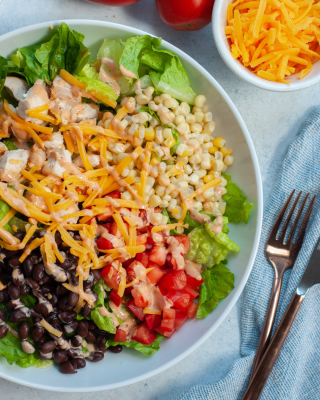 Ingredients:
3 cups (141g) chopped Romaine lettuce
2 ½ oz (71g) cooked chicken breast (diced or shredded)
⅓ cup (80g) black beans
⅓ cup (50g) corn
⅓ cup (60g) diced tomato
2 tablespoons (28g) shredded sharp cheddar cheese
2 ½ tablespoons (38g) "Hidden Valley" nonfat Ranch dressing
2 tablespoons (32g) "Stubb's" original Bar-B-Que sauce
Instructions:
Toss the first 5 ingredients together in a large bowl. Sprinkle with the shredded cheese.
Mix the Bar-B-Que sauce and Ranch together in a small bowl. Drizzle on the salad.
Notes:
If making in advance keep the dressing separate until you're ready to enjoy.
Time saver tip: use pre-cooked chicken and frozen corn. Lightly steam the corn for 2-3 minutes in 1 inch of boiling water, strain, and cool before adding to the salad.
To make jar salads: multiply the recipe by the number of servings you wish to make. Layer the dressing in the bottom of each jar and top with beans, corn, tomatoes, chicken, cheese, and lettuce (in that order, from bottom to top.) Seal the lid tightly and store in the refrigerator for 3-4 days. Shake before enjoying.