Kids will go CRAZY for these crispy, crunchy, perfect-for-dipping Healthy Chicken Strips!! We're recreating restaurant style fried chicken at home, in under 30 minutes, using no added oil or flour. The secret? Corn Flake crumbs. This quick dinner is gluten-free, dairy-free, and family approved!
Servings: 4
Serving Size: 113g cooked chicken strips
Prep Time: 5 minutes
Total Time: 25 minutes
Nutrition Facts: 231 calories / 18.5g carbs / 28.5g protein / 4g fat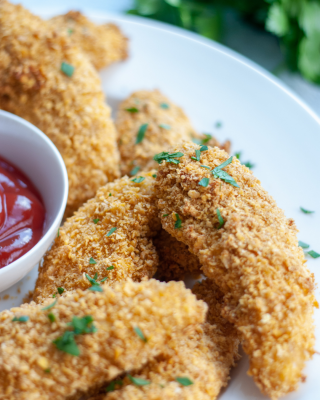 Ingredients:
1 cup (85g) "Kellogg's" cornflake crumbs
½ teaspoon garlic powder
½ teaspoon salt
1 egg (50g)
1 lb (453g) chicken tenders
For dipping: marinara sauce, Ketchup, mustard, BBQ sauce (macros not included)
Instructions:
Preheat the oven to 400 degrees. Line a baking sheet with a silicone baking mat or foil. Spray lightly with nonstick cooking spray.
Mix the cornflake crumbs with the garlic powder and salt in a shallow bowl or dish.
Beat the egg in another shallow bowl or dish.
Dip each chicken tender in the beaten egg and then press into the cornflake mixture, turning to coat as evenly as possible. Place on the prepared baking sheet.
Repeat for all of the chicken tenders. You should use almost all of the egg and crumbs (discard any that remain.)
Bake for 15-17 minutes or until lightly browned and the chicken is cooked through.
Serve with honey mustard, BBQ sauce, ketchup, mustard, marinara, or Ranch (macros not included.)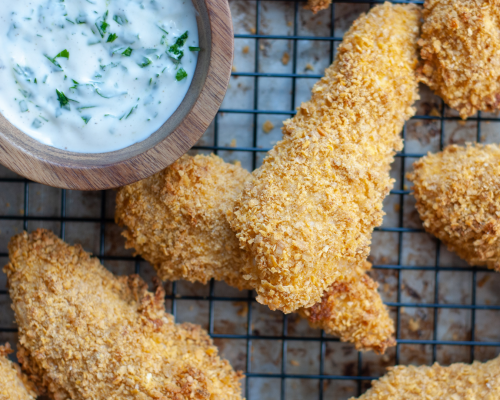 Notes:
You can make your own Corn Flake crumbs by blending 3 cups of Corn Flakes in a food processor until you have the texture of coarse breadcrumbs.