These Paleo Chicken and Veggie Foil Packs are a fun twist on a sheet pan recipe! Perfect for meal prep, these (adorable) individually packaged parcels of seasoned chicken, sweet potato, and veggies cook up in less than 30 minutes. Super juicy, super flavorful, and super easy.
Servings: 4
Serving Size: 1 foil pack (250g)
Prep Time: 10 minutes
Total Time: 35 minutes
Nutrition Facts: 368 calories / 33g carbs / 29g protein / 13.5g fat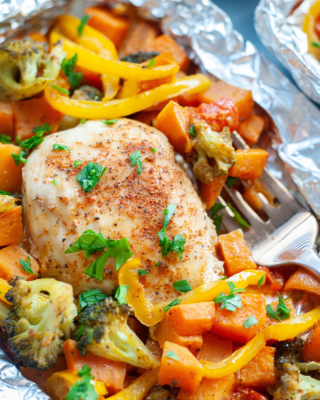 Ingredients:
1lb (453g) raw chicken breast
4 cups (532g) cubed sweet potato (about 2 ½ large, cut into ½-inch dice)
2 cups (156g) chopped broccoli
1 bell pepper (114g) (thinly sliced)
1 cup (149g) cherry tomatoes (halved)
3 tablespoons (41g) olive oil
2 teaspoons "Paleo Powder" all purpose seasoning
¼ teaspoon salt
Instructions:
Preheat the oven to 425 degrees. Set out 4 large squares of foil, about 12 inches square each.
Slice the chicken breasts into four even (4oz) pieces.
In a large bowl, toss the sweet potato, broccoli, bell pepper and tomatoes with the olive oil, 1 ½ teaspoons of the seasoning, and salt.
Place one chicken piece in the center of each foil square. Season with salt and pepper and the remaining seasoning. Evenly divide the vegetable mixture among the 4 foil packs (about 250g veggies per pack).
Tightly seal the edges of each foil pack by pulling the sides up to the center and folding the edges of the foil together. Then fold the other sides over and tuck towards the center.
Place the foil packs on a baking sheet and bake for about 25 minutes. They are done when the veggies are tender and the chicken is cooked through.
Season to taste with additional salt, pepper, and seasoning. Store leftovers in an airtight container for up to 5 days.
Notes:
You can use any all-purpose or chicken seasoning in this recipe! If you're not Paleo or Whole30, any type of chicken grill seasoning (such as "McCormick's Grill Mates") works well.