Ten minute meal alert! These Buffalo Chicken Loaded Potatoes are stuffed to the brim with chicken, buffalo wings sauce, and a melty blanket of shredded cheese. They're deceptively easy – throw a potato in the microwave, top with pre-cooked chicken, and you have yourself a meal!
Servings: 1
Prep Time: 10 minutes
Total Time: 10 minutes
Nutrition Facts: 394 calories / 38g carbs / 35.5g protein / 10g fat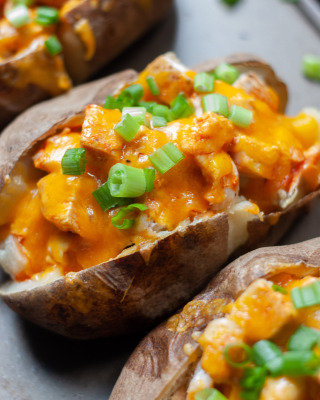 Ingredients:
1 medium (173g) baked potato
3oz (85g) baked chicken breast (diced)
1 tablespoon (15g) "Frank's RedHot" buffalo wings sauce
3 tablespoons (21g) shredded sharp cheddar cheese
1 tablespoon (6g) diced green onion (optional)
Instructions:
Slice baked potato in half lengthwise. Top with the diced chicken, buffalo wings sauce, and shredded cheese.
Microwave for 30-60 seconds until the cheese is melted, or place under the oven broiler for 3-4 minutes.
Sprinkle with chopped green onion (optional). Enjoy!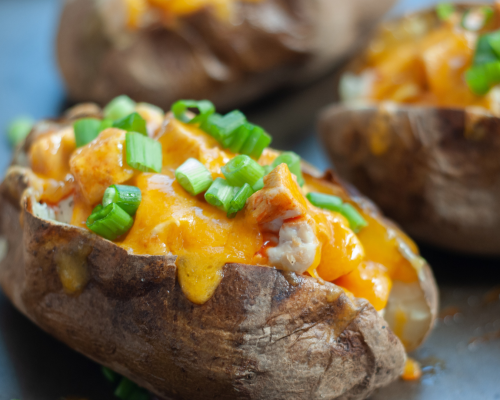 Notes:
Time saver tip: use rotisserie chicken breast.
If your potato is larger than the "medium" 173g potato specified in the ingredients, trim your cooked potato to match the recommended cooked weight.
You can either cook your potato (skin-on) in the oven (about 45 minutes at 400 degrees) or in the microwave. To microwave, poke several holes in the potato skin with a fork and then microwave on high for 5 minutes. Turn, and microwave for another 3-5 minutes or until the potato is cooked through.
To make this recipe kid-friendly omit the buffalo sauce (which is fairly spicy!).