Think you're too busy for breakfast? Think again! With 3 minutes and a mug, a gourmet high protein breakfast is yours. We're taking easy to a whole new level with our veggie-full 3 Minute Mug Omelet. No pans to wash here!
Servings: 1
Prep Time: 3 minutes
Nutrition Facts: 200 calories / 3g carbs / 23g protein / 10g fat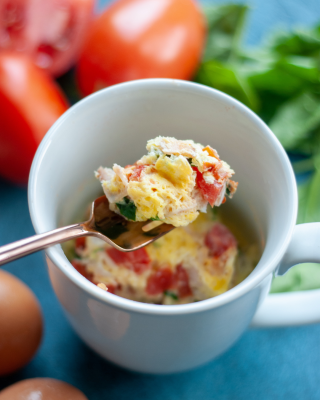 Ingredients:
2 eggs (100g)
2 ounces (57g) "Hormel Natural Choice" smoked deli turkey (diced)
¼ cup (8g) raw baby spinach (roughly chopped)
2 tablespoons (31g) diced tomato
Instructions:
Crack the eggs into a mug. Scramble with a fork and season with salt and pepper.
Stir in the diced turkey, spinach, and tomato.
Microwave on high for 1:30-2:00 minutes. It's cooked when the eggs are firm all the way through.
Enjoy warm. You can either eat straight from the mug or spoon the omelet onto a slice of toast or tortilla.
Notes:
Optional toppings (macros not included): shredded cheese, avocado, hot sauce, fresh parsley.
You can also cook this in a bowl.
You may notice some moisture at the bottom of your mug from the spinach and tomatoes. This is normal! If you microwaved your omelet for the full 1:30-2 minutes the eggs will be cooked all the way through.
Feel free to leave out the spinach or tomatoes if you like – the macros will be almost identical.