Whether you're running out the door or enjoying a weekend brunch, a breakfast burrito is always the right answer! Our 5 minute Breakfast Burrito has just 4 pantry staple ingredients and is easily customized with your favorite mix-ins (cheese anyone?).
Servings: 1
Prep Time: 5 minutes
Nutrition Facts: 362 calories / 31g carbs / 27g protein / 13.5g fat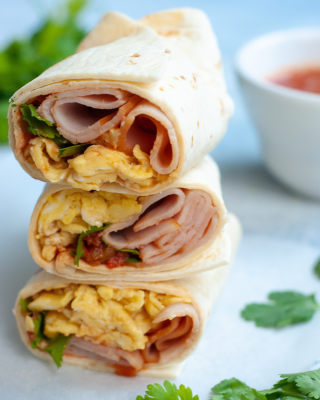 Ingredients:
2 eggs (100g)
1 "Mission" 7-inch (49g) flour tortilla
3 slices (56g) "Hormel Natural Choice" applewood smoked turkey
2 tablespoons (33g) mild salsa
Optional mix-ins: fresh cilantro, chopped onion, avocado, shredded cheese, or diced tomatoes (macros not included)
Instructions:
Scramble the eggs in a nonstick skillet over low-medium heat. Season with salt and pepper to taste. Spoon the cooked eggs into the center of the tortilla.
You can either leave the deli meat slices whole, or chop into bite-sized pieces. Heat the deli turkey in the skillet for a few minutes until warmed through.
Add the turkey and salsa to the eggs in the center of the tortilla. Add any of the optional mix-ins if desired.
Fold each end inwards and roll up. If eating immediately, enjoy! If saving for later, wrap in aluminum foil. Unwrap and heat in the microwave before eating.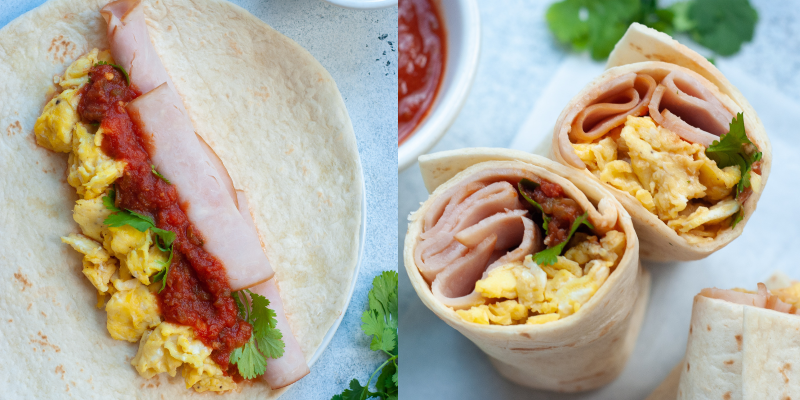 Notes:
Use any brand of salsa, the macros are generally very similar.