Plant based protein for the win! Our Vegan Burrito Bowls are layered with fiesta flavored quinoa, black beans, fajita veggies, and salsa soy crumbles. Perfect for meal prep or feeding a crowd, this recipe is easy to customize with all your favorite toppings.
Servings: 4
Serving Size: 1 burrito bowl
Prep Time: 25 minutes
Total Time: 25 minutes
Nutrition Facts: 341 calories / 48g carbs / 26.5g protein / 6.5g fat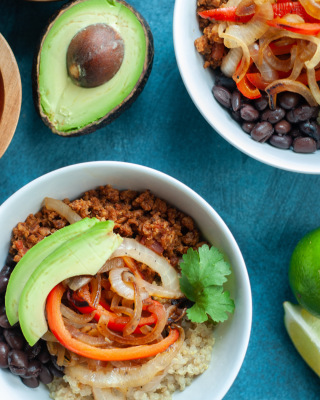 Ingredients:
1 red bell pepper (114g) (thinly sliced)
1 yellow onion (128g) (thinly sliced)
2 cups (348g) "Gardein" beefless ground
½ cup (130g) "Pace" mild chunky salsa
2 teaspoons "McCormick" less sodium taco seasoning
2 cups (370g) cooked quinoa
1 cup (240g) black beans (rinsed and drained)
½ avocado (68g) (sliced into 8)
Optional garnishes: sliced fresh radishes, cilantro, shredded lettuce or cabbage
Instructions:
Heat a nonstick skillet over high heat. When very hot, add the thinly sliced peppers and onions to the pan. Saute over high heat for 3-5 minutes or until browned/charred.
Turn the heat down to medium-low and cook for another 5-10 minutes or until just cooked through. Remove from pan and season with salt and pepper.
Add the beefless ground into the skillet with the salsa and taco seasoning and cook for about 5 minutes over medium heat until warmed.
Assemble burrito bowls by layering each bowl with ½ cup quinoa, ¼ cup black beans, ½ cup salsa mixture, ½ cup of onions and peppers, and 2 slices of avocado. Garnish with sliced radishes, cilantro, shredded greens, or more salsa if desired (macros negligible.)
Notes:
Feel free to use any brand of salsa – the macros are generally very similar!
This recipe is great for meal prep. Assemble 4-8 servings in meal prep containers and store for up to 5 days in the refrigerator.
If you are cooking your quinoa, it takes about ⅔ cup of raw quinoa to produce 2 cups cooked. You can also find pre-cooked/instant quinoa at most grocery stores.