Baked pancakes: bringing you all the pancake goodness you know and love in a fraction of the time! Instead of painstakingly cooking each individual pancake on a griddle, we're baking the batter in the oven and slicing into squares. Plus each juicy blueberry-filled serving (2 squares) has 15 grams of protein!
Makes: 8 pancake squares
Serving Size: 2 pancake squares (140g)
Prep Time: 5 minutes
Total Time: 20 minutes
Nutrition Facts: 246 calories / 30.5g carbs / 15.5g protein / 7.5g fat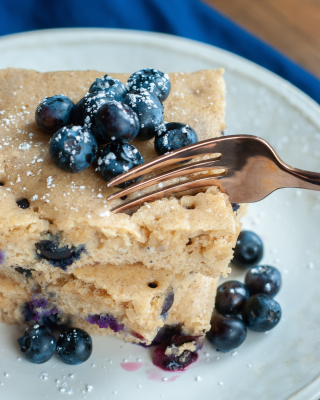 Ingredients:
1 ½ cups (159g) "Kodiak Cakes" Power Cakes buttermilk mix
¾ cup (184g) fat-free milk
2 eggs (100g)
1 tablespoon (14g) canola oil
½ teaspoon cinnamon
1 cup (148g) blueberries (fresh or frozen)
Instructions:
Preheat the oven to 350 degrees. Prepare a 9×13-inch baking dish by spraying well with nonstick cooking spray.
Mix all ingredients except for the blueberries together in a medium bowl. Stir with a fork until the pancake mix is incorporated and only a few lumps remain.
Pour the batter into the prepared dish. Sprinkle evenly with blueberries.
Bake for 12 minutes or until the pancakes are very lightly browned and a toothpick comes out clean. Be careful not to overbake- the pancakes can get rubbery if cooked too long.
Cool for 10 minutes before slicing. Slice into 8 even squares. Serve warm topped with syrup, berries, nut butter, or cinnamon sugar (macros not included.)
Store leftovers in an airtight container in the refrigerator for 3-5 days, or in the freezer for up to 3 months. Defrost in the microwave for 30-60 seconds.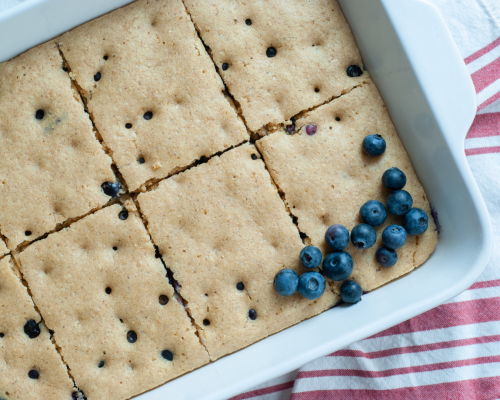 Notes:
You can use either fresh or frozen blueberries for this recipe. If using frozen do not defrost!
---
Some of the links above are affiliate links, which may earn Macrostax a commission at no extra cost to you.