This fresh vegetable side dish is inspired by the flavors of Mexican street corn.
Servings: 6
Serving Size: scant 1/2 cup (101g)
Prep Time: 15 minutes
Total Time: 15 minutes
Nutrition Facts: 118 calories / 17g carb / 3.5g pro / 2.5g fat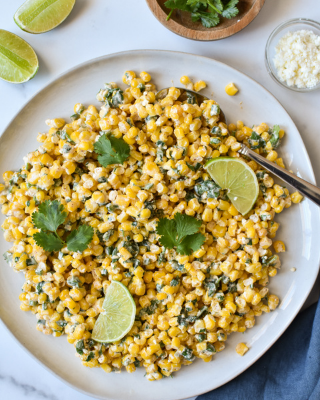 Ingredients:
16-ounce bag (454g) frozen corn
1/4 cup light sour cream (60g)
2 tablespoons fresh lime juice
1/2 teaspoon chili powder
1/2 teaspoon salt
1/4 cup (35g) queso fresco cheese
1/4 cup fresh cilantro (chopped)
1 small jalapeño (seeded and minced) Optional garnishes: extra lime wedges and cilantro
Instructions:
Heat the corn in a large skillet over medium low.
Meanwhile, add sour cream, lime juice, chili powder and salt to a large bowl and whisk to combine.
Transfer the corn to the bowl with the dressing and add the queso fresco, cilantro, and jalapeño (optional). Season with salt to taste.
Notes:
This dish is best served warm, but can also be made ahead of time. Store in the refrigerator and bring back to room temperature before serving.
Queso fresco is fresh, mild, Mexican cheese. If this is unavailable, consider using feta or Cotija cheese.