This Morning Glory Macro Bread is full of fruit and veggie goodness – a high fiber, high protein snack to feel great about! With an extra boost of protein from Gold Standard whey protein powder, this bread is perfect for a snack or on-the-go breakfast. Toast your slice and top with butter or your favorite nut butter for an extra special treat!
Makes: 10 slices
Serving Size: 1 slice (96g)
Prep Time: 15 minutes
Total Time: 1 hour
Nutrition Facts:  185 calories / 31g carbs / 13g protein / 3g fat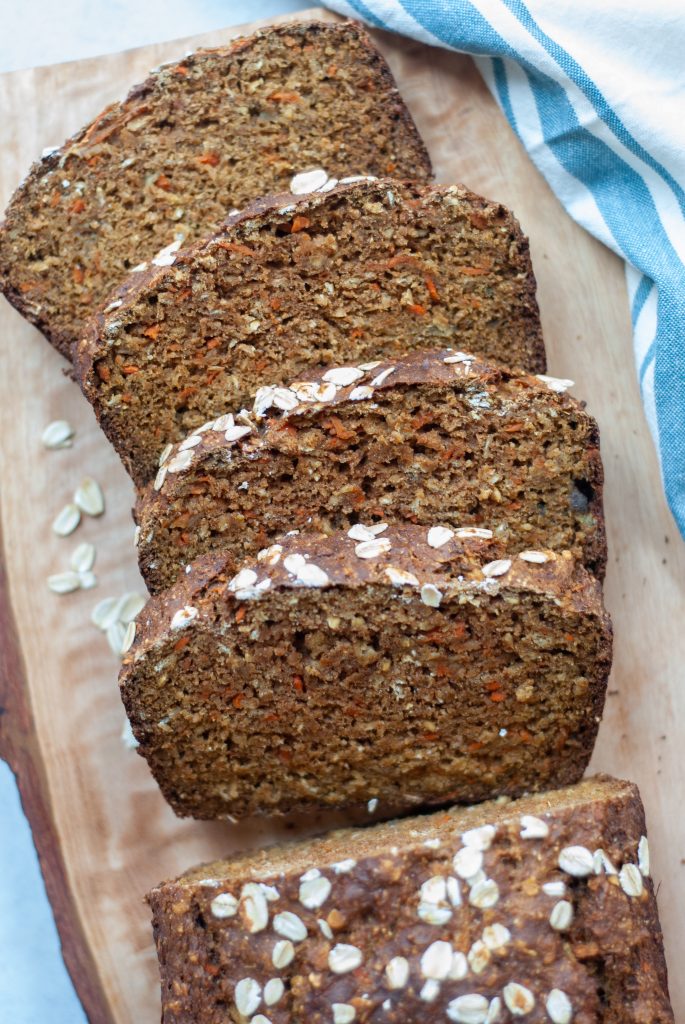 Ingredients:
1 medium (118g) banana (mashed)
3 eggs (150g)
½ cup (120g) nonfat milk
¼ cup (85g) honey
3 scoops (93g) Optimum Nutrition Gold Standard vanilla whey protein
1 cup (84g) quick-cooking oats
1 cup (120g) whole wheat flour
1 tablespoon baking soda
1 tablespoon baking powder
1 teaspoon cinnamon
½ teaspoon salt
1 cup (110g) grated carrots
1 medium (182g) apple (grated)
2 tablespoons oats (for topping)
Instructions:
Preheat the oven to 350 degrees and prepare a loaf pan by spraying with nonstick cooking spray or lining with foil or parchment paper.
Mix the banana, eggs, honey, and milk together in a large bowl. Add the dry ingredients (protein powder, oats, flour, baking soda, baking powder, salt, and cinnamon) and stir well with a fork.
Fold in the grated carrots and apple.
Pour the batter into the prepared loaf pan. Sprinkle with the remaining 2 tablespoons of oats and press lightly into the surface of the batter with your fingers.
Bake for 35-40 minutes until golden brown and a skewer or knife just comes out clean. This loaf browns easily, so if it gets too dark while in the oven cover the loaf with foil for the remainder of the baking time.
Remove the loaf pan from the oven and place on a cooling rack for 15 minutes. Remove the loaf from the pan and cool to room temperature.
Slice into 10 slices. Serve plain, topped with butter, vegan butter, honey, or nut butter (not included in the nutrition information above). This bread is also delicious toasted!
Store in an airtight container for up to a week or in the freezer for up to 3 months.
Notes:
Time saver tip: use your food processor to pulse the carrots and apple into small pieces if you don't have an automatic grater attachment.
It's not necessary to peel the apple or carrots before grating.
If you decide to use our favorite Optimum Nutrition protein powder you can use code "MACROSTAX" for 20% off your purchase!
---
Some of the links above are affiliate links, which may earn Macrostax a commission at no extra cost to you.