Whether you're serving up a crowd or meal prepping for the week, it's impossible not to fall in love with this easy breakfast casserole. Cheesy, protein-rich, and full of veggies, this one-dish-wonder has something to please everyone.
Servings: 6
Serving Size: 1 slice (357g)
Prep Time: 20 minutes
Total Time: 1 hr 35 min
Nutrition Facts: 360 calories/ 27.5g carbs /33.5g protein / 12.5g fat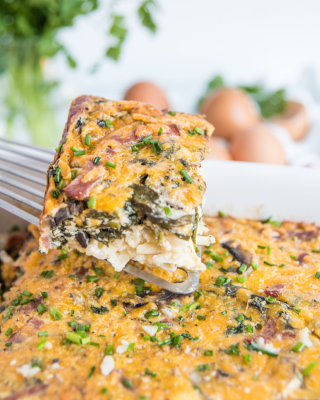 Ingredients:
20-ounce (567g) bag shredded hash browns (thawed)
1 ½ cups (339g) low-fat cottage cheese (divided)
1, 8-ounce package (226g) turkey bacon
16-ounces (454g) baby bella mushrooms (sliced)
1 (42g) medium shallot (diced)
3 cloves garlic (minced)
8-ounce (224g) raw baby spinach
6 (300g) large eggs
1 cup (243g) liquid egg whites
½ cup (123g) nonfat milk
1 ½ teaspoons Italian seasoning
½ teaspoon salt
3/4 cup (84g) shredded sharp cheddar cheese
Instructions:
Preheat the oven to 375 degrees and spray a 9"x13" baking dish with nonstick cooking spray.
In a large bowl, stir together hash browns with 1 cup of cottage cheese and spread the mixture over the bottom of the baking dish.
Cook bacon in a large skillet over medium-high heat until cooked through but not yet crispy, 3-4 minutes. Remove bacon and set aside. If using a pre-cooked turkey bacon, skip this step and move directly to sauteing vegetables. Give the skillet a quick wipe to remove any bacon remnants and spray with nonstick cooking spray. Sauté mushrooms, shallots, and garlic over medium heat until soft and fragrant, about 3-5 minutes. Add the spinach, a few handfuls at a time, stirring until the spinach wilts (volume of spinach will decrease considerably) – about 2 minutes. Chop bacon into bite-size pieces and spread evenly with spinach mixture over the hash browns.
In a large bowl, whisk together eggs, egg whites, milk, and the remaining ½ cup cottage cheese, and season with the Italian seasoning and salt. Pour over the hash browns and sprinkle the top with grated cheese. Bake for 40-45 minutes until the egg is set and the cheese is nicely browned.
Let the casserole sit for 10-15 minutes before slicing. Serve warm, garnished with chives, if desired.
Notes:
Casserole will keep for up to 4 days in the fridge or 2 months in the freezer. To reheat from frozen, thaw in the fridge overnight, cover the top with aluminum foil, and bake in the oven at 350 degrees until warmed throughout (about 25-30 minutes). Individual slices may be thawed and reheated in the microwave for breakfast on the go
Make ahead: the casserole may be fully assembled the night before and kept in the fridge until ready to bake. If baking straight from the refrigerator it may be necessary to add on a few extra minutes of baking time.
If possible, use freshly grated cheddar cheese for optimal melting.
If you have fresh potatoes on hand and don't mind a bit of extra prep time, you can easily substitute the hash browns with two cups of diced or shredded Yukon gold potato
This casserole lends itself nicely to variations. Feel free to add additional vegetables to the sauté or replace turkey bacon with chopped ham, regular bacon, or crumbled sausage during assembly (macros will vary).