We put a fall twist on yet another Kitchen favorite and came up with: Pumpkin Morning Glory Macro Bread! This seasonal limited edition recipe is full of fiber and protein goodness, it's a breakfast or snack to feel great about. Top your slice with butter, vegan butter, or your favorite nut butter!
Makes: 10 slices
Serving Size: 1 slice (109g)
Prep Time: 15 minutes
Total Time: 1 hour
Nutrition Facts: 180 calories / 29g carbs / 11g protein / 3.5g fat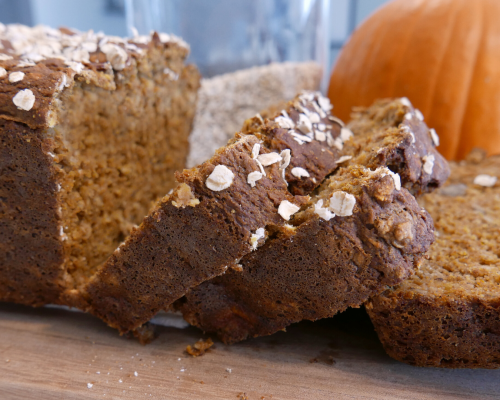 Ingredients:
3 eggs (150g)
½ cup (120g) unsweetened almond milk
¼ cup (85g) honey
1 teaspoon vanilla extract
2 medium (236g) bananas (mashed)
1 cup (240g) canned pumpkin
1 cup (84g) quick-cooking oats
1 cup (120g) whole wheat flour
2 scoops (82g) "Vega Sport" vanilla protein powder
1 tablespoon baking soda
1 tablespoon baking powder
1 teaspoon cinnamon
½ teaspoon ground ginger
½ teaspoon nutmeg
½ teaspoon salt
2 tablespoons oats (for topping)
Instructions:
Preheat the oven to 350 degrees and prepare a loaf pan by spraying with nonstick cooking spray or lining with foil or parchment paper.
Mix the wet ingredients (eggs, honey, vanilla extract, and almond milk) together in a large bowl.
Then mix in the bananas and the canned pumpkin.
Add the dry ingredients (protein powder, oats, flour, spices, baking soda, baking powder, and salt) and stir well with a fork.
Pour the batter into the prepared loaf pan. Sprinkle with the remaining 2 tablespoons of oats and press lightly into the surface of the batter with your fingers.
Bake for 45 minutes until golden brown and a skewer or knife just comes out clean. Be careful not to over-bake, the loaf may dry out!
Place the loaf pan on a cooling rack for 15 minutes. Remove the loaf from the pan by turning upside down onto the cooling rack. Continue to cool to room temperature.
Serve plain, topped with butter, vegan butter, honey, or nut butter. This bread is also delicious toasted!
Store in an airtight container for up to a week or in the freezer for up to 3 months.
---
Some of the links above are affiliate links, which may earn Macrostax a commission at no extra cost to you.