In the mood for pumpkin everything? Us too! These dairy-free Light Pumpkin Pie Bars are perfect for sharing Thanksgiving-style. Or, you know, not sharing. Each 3-bite bar is lightly sweetened, perfectly pumpkin-y, and cinnamon spiced. Basically the answer to all of your fall dessert craving dreams!
Servings: 16 bars
Serving Size: 1 bar
Prep Time: 15 minutes
Total Time: 45 minutes
Nutrition Facts: 111 calories / 16g carbs / 1.5g protein / 4.5g fat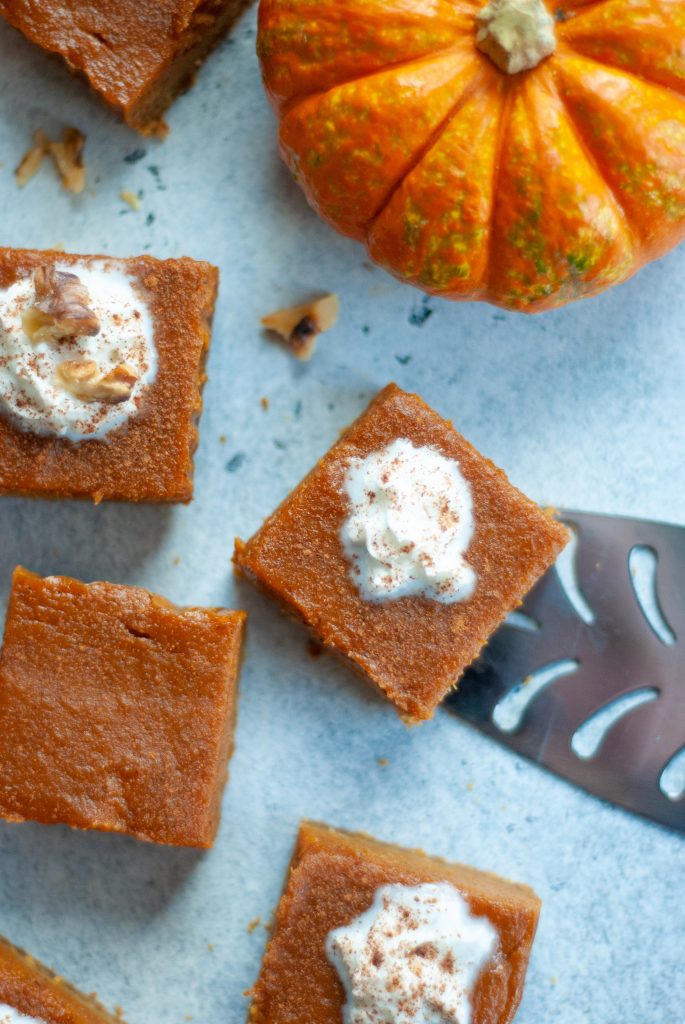 Ingredients:
Crust:
1 cup Graham cracker crumbs
4 tablespoons refined coconut oil (melted)
Filling:
1 15-oz can pure pumpkin puree (we used "Libby's")
⅔ cup packed brown sugar
2 eggs
½ cup unsweetened almond milk
1 tablespoon flour
1 ½ teaspoons pumpkin pie spice
1 teaspoon vanilla
¼ teaspoon salt
Instructions:
Preheat oven to 350 degrees. Line a 8×8-inch or 9×9-inch square baking dish with parchment paper or foil, leaving a 1-2 inch overhang around the sides.
Mix the crust ingredients together in a medium bowl with a fork. Press the Graham crumb mixture evenly into the bottom of the baking dish, pressing firmly with your fingers.
Bake the crust for 6-8 minutes or until lightly golden brown and fragrant. Remove from the oven. Let cool for at least 10 minutes.
In a large bowl whisk the filling ingredients together. You can also use a handheld or stand mixer. Pour the filling into the cooled crust.
Return to the oven and bake for 25-28 minutes until the center is just set (does not jiggle when you move the dish). Set aside to cool to room temperature on a baking rack.
To slice: remove the bars from the pan using the paper or foil overhang and place on a cutting board.
Use a sharp knife to cut 16 even squares, wiping the knife between each cut to ensure clean lines. Refrigerate before serving.
Serve with whipped cream, ice cream, chopped nuts, or a sprinkle of cinnamon and icing sugar (macros not included.) Store leftovers in an airtight container in the refrigerator for up to 5 days.
Notes:
You can also use unrefined coconut oil, although your crust will have a mild coconut flavor.
You can also use regular nonfat milk instead of almond milk (macros: 16.5C/2P/4.5F per bar).
---
Some of the links above are affiliate links, which may earn Macrostax a commission at no extra cost to you.