This Rainbow Thai Coleslaw is an easy, zesty side dish for your next get together or barbeque! It pairs perfectly with our Smoky Pulled Pork but stands up on its own as well. Fresh veggies, sesame ginger dressing, cilantro, and roasted cashews add an Asian fusion flair to traditional coleslaw. Goodbye bland, hello flavor!
Servings: 6
Serving Size: 1 cup (135g)
Prep Time: 15 minutes
Nutrition Facts: 103 calories / 13g carbs / 3g protein / 5g fat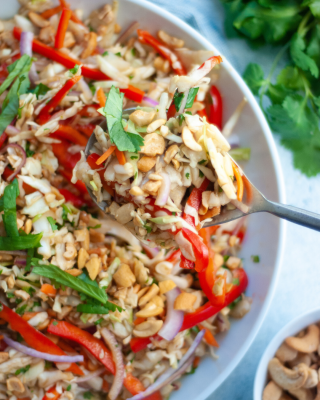 Ingredients:
1 14-oz package (397g) coleslaw mix
1 red bell pepper (114g, thinly sliced)
½ cup (8g) chopped cilantro
½ cup (105g) thinly sliced red onion
⅓ cup (78g) "Newman's Own" sesame ginger dressing
2 tablespoons (42g) low sodium soy sauce (we used "Kikkoman")
2 garlic cloves (minced)
2 oz (57g) roasted salted cashews (chopped)
Instructions:
Toss the coleslaw, bell pepper, cilantro, and onion together in a large bowl.
Whisk the dressing, soy sauce, and minced garlic together in a small bowl. Pour over the coleslaw and mix well.
Sprinkle with the chopped cashews. Garnish with additional chopped cilantro if desired. Cover and chill for at least an hour for the best flavor!