These 15 Minute Shrimp Fajitas are the perfect weeknight dinner (in our humble opinion). Why? They are effortless to throw together, are packed with punchy fajita flavor, and are the perfect excuse to pile on all your favorite toppings! Cheese, salsa, or avocado anyone?
Servings: 4
Serving Size: 2 tortillas with 3 oz shrimp and 1 cup fajita veggies (114g)
Prep Time: 5 minutes
Total Time: 15 minutes
Nutrition Facts: 316 calories / 30.5g carbs / 27.5g protein / 10g fat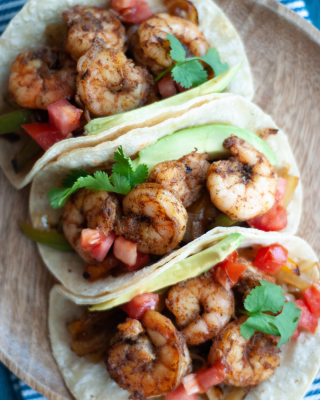 Ingredients:
2 tablespoons avocado or canola oil (divided)
1 lb (454g) raw shrimp (peeled and deveined)
1 teaspoon ground cumin
1 teaspoon chili powder
½ teaspoon salt
2 bell peppers (228g) (any color, thinly sliced)
1 medium (331g) yellow onion (thinly sliced)
8 "Mission" corn tortillas
Optional garnishes: fresh cilantro, red onion, jalapenos, radishes, salsa, sour cream, avocado, shredded cheese (macros not included)
Instructions:
Preheat the oven to 400 degrees. Line a baking sheet with foil or spray well with nonstick cooking spray.
In a medium bowl, toss 1 tablespoon of the oil, shrimp, cumin, chili powder, and salt. Spread the seasoned shrimp in a single, even layer on the prepared baking sheet.
Roast for 8-10 minutes until just pink and cooked through.
While the shrimp is roasting, heat the remaining tablespoon of oil over high heat in a large skillet. Add the sliced bell peppers and onion to the pan and cook for 3-4 minutes (without stirring), until the undersides are golden and well seared. Toss the veggies and cook for another 3-4 minutes until just softened. Remove from the heat.
Serve the fajita veggies and roasted shrimp along with the tortillas. Garnish with your preferred toppings.
---
Some of the links above are affiliate links, which may earn Macrostax a commission at no extra cost to you.