Who needs the canned stuff when you can sit down to a warm bowl of homemade soup at the end of a long day? Slow cooking the chicken in stock creates a flavorful, double-concentrated broth with a richness that can't be beat. Whether you're under the weather or in tip-top shape, this is the soup for you!
Servings: 8
Serving Size: 1½ cups (444g)
Prep Time: 10 minutes
Total Time: 8 hrs, 10 min
Nutrition Facts: 246 calories / 21g carbs / 31.5g protein / 4g fat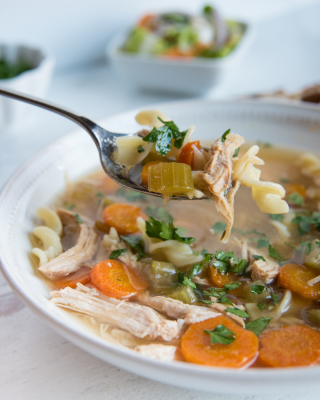 Ingredients:
2 lbs (908g) boneless, skinless chicken breast
3 large (198g) carrots (cut into rounds)
1 small (140g) onion (sliced)
4 stalks (216g) celery (sliced)
4 cloves (12g) garlic (minced)
1 large sprig thyme
1 bay leaf (optional)
8 cups (1920g) low sodium chicken stock
½ teaspoon salt
½ teaspoon crushed red pepper flakes (optional)
6-ounces (171g) extra wide egg noodles (dry)
3 tablespoons (45g) fresh lemon juice
Instructions:
Place the chicken breasts in the bottom of a 6-8 qt slow cooker and top with the carrots, onion, celery, garlic, thyme, and bay leaf (optional). Pour in chicken broth and season with salt, red pepper flakes (optional), and a few generous grinds of black pepper to taste.
Cover and cook on low for 6-8 hours.
Remove chicken breasts from the pot and shred with two forks.
Return shredded chicken to the pot along with the uncooked egg noodles. Cover and cook on low for an additional 30 – 40 minutes.
Stir in lemon juice and serve hot, garnished with parsley, if desired.
Notes:
If fresh thyme is unavailable, ¾ teaspoon dried thyme may be substituted.
Soup keeps for 5 days in the refrigerator and up to 3 months in the freezer.
To freeze, allow soup to cool to room temperature then freeze in one or two portion containers. When ready to use, defrost in the refrigerator overnight and reheat in a saucepan on the stove over medium heat.