Just because you're busy doesn't mean you don't deserve a delicious, slow-cooked meal. This Mexican casserole takes lean ground beef, protein-rich quinoa, and a handful of flavorful spices to make a no-stress, no-rush dinner!
Servings: 8
Serving Size: 1 1/2 cups (361g)
Prep Time: 10 minutes
Total Time: 3-6 hours
Nutrition Facts: 384 calories / 38g carbs / 27.5g protein / 13g fat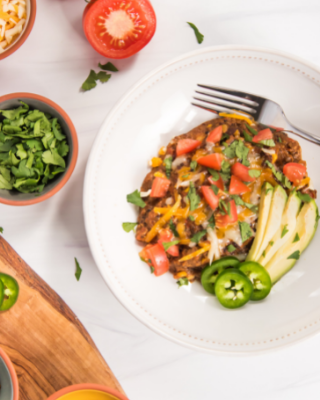 Ingredients:
2 teaspoons (10g) olive oil
1 medium (185g) yellow onion (diced)
4 cloves (12g) garlic (minced)
1.5 lbs (680g) 93% lean ground beef
1 cup (170g) uncooked quinoa
1, 15-ounce can (255g) black beans (rinsed and drained)
1 15-ounce can (263g) whole kernel sweet corn (rinsed and drained)
2, 10-ounce cans (566g) 'Rotel' diced tomatoes and green chilis
1, 28-ounce can (794g) 'Old El Paso' enchilada sauce
1 medium (127g) red bell pepper (diced)
1 1/2 tablespoons chili powder
1 tablespoon ground cumin
1 1/2 teaspoons smoked paprika
1/4 cup (60g) fresh lime juice
1 cup (112g) "Kraft" shredded Mexican-style cheese blend
Instructions:
Heat oil in a large non-stick skillet over medium-high heat. Add onions and garlic and sauté for 2-3 minutes before adding ground beef. Cook, stirring occasionally, breaking up the meat as you go. Once the beef is nicely browned (5-6 minutes) transfer the contents of the skillet to the slow cooker.
Add all remaining ingredients except the cheese to the slow cooker and stir to combine. Cover and cook on high for 2 1/2 – 3 hours or low for 5-6 hours. Remove lid and stir in the cheese just prior to serving.
Serve warm, garnished with any additional optional toppings of your choice, such as cilantro, avocado, jalapenos, and additional cheese (macros not included).
Notes:
Leftovers may be stored in an airtight container in the fridge for up to 4 days and in the freezer for 3 months. If reheating from frozen, allow the casserole to thaw in the fridge overnight.
This dish also works great if you're looking for a wholesome nacho variation! Simply place your chips on an aluminum foil-lined tray and top with the Mexican casserole. Sprinkle with a little cheese of your choice and broil until hot and melty. Serve with Greek yogurt instead of sour cream and a bowl of pico de gallo or salsa. Macros will vary.