Ready to meet your new favorite go-to dessert? These no-bake, 4-ingredient snickerdoodle ice cream bars layer 'Kodiak' cinnamon bear bites, 'Halo Top' ice cream, and a cinnamon streusel for a dessert that is: hands-off, protein-rich, kid-friendly, shareable, easily adaptable, a breeze to make, and (most importantly) absolutely delicious! So what are you waiting for?
Servings: 8
Serving Size: 1 bar (87g)
Prep Time: 5 minutes
Total Time: 3 hours
Nutrition Facts: 216 calories / 25.5g carbs / 7.5g protein / 9.5g fat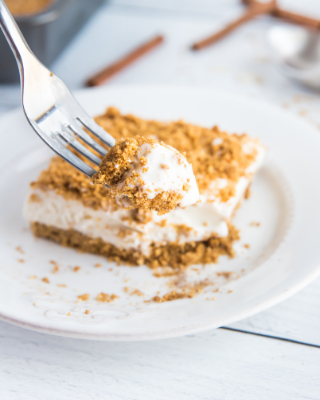 Ingredients:
1 1/2 cups (126g) 'Kodiak' cinnamon bear bites (crushed)
4 tablespoons (57g) butter (melted)
1/4 teaspoon salt
2 pints (516g) 'Halo Top' vanilla bean ice cream (softened to a spreadable consistency)
Instructions:
Line an 8-inch square baking dish with parchment paper, leaving a 1/2-inch overhang around the sides.
Mix the cracker crumbs, butter, and salt together in a medium bowl. Set aside 1/4 cup of the mixture (this will be your streusel topping) and press the rest evenly into the bottom of the baking dish, pressing firmly with your fingers. Place in the freezer for 10-15 minutes to give the crust a chance to firm up.
Once the crust is firm, spread the ice cream over the top in an even layer. Sprinkle the reserved cracker mixture over the top and return to the freezer for at least two hours.
Using the parchment paper overhang, lift the bars out of the pan, slice into 8 bars, and serve! Sprinkle ice cream bars with extra cinnamon and/or sea salt for added flavor.
Notes:
No Kodiak Bear Bites on hand? Substitute an equal amount of graham cracker crumbs with 1/2 teaspoon cinnamon (macros will vary).
Feel free to get creative with your ice cream bars and try some of these different combinations! (macros will vary)
Grasshopper bars: chocolate Kodiak bites, mint chocolate chip Halo Top, topped with chocolate streusel and mini chocolate chips
Peanut butter cup: chocolate Kodiak bites, peanut butter cup Halo Top, topped with chocolate streusel and drizzled with melted peanut butter
Birthday cake: honey Kodiak bites, birthday cake Halo Top, topped with sprinkles
Cookies and cream: chocolate Kodiak bites, cookies and cream Halo Top, topped with chocolate streusel
Double chocolate: chocolate Kodiak bites, chocolate Halo Top, topped with chocolate streusel and mini chocolate chips
Dulce de leche: cinnamon Kodiak bites, salted caramel Halo Top, topped with cinnamon streusel and sea salt