Elevate your special occasion meal with these restaurant-worthy steak roll-ups that are stuffed with a creamy spinach artichoke filling.
Servings: 4
Serving Size: 95g
Prep Time: 15 minutes
Total Time: 40 minutes
Nutrition Facts: 300 calories / 4g carbs / 33.5g protein / 16g fat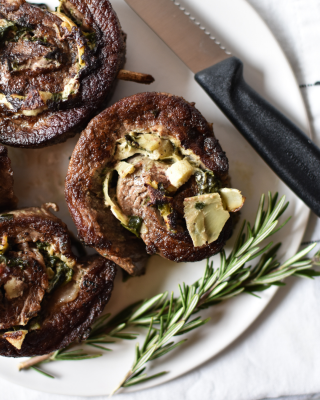 Ingredients:
2 cups (120g) raw baby spinach
2 cloves garlic (grated)
2-ounces (56g) ⅓ less fat cream cheese
½ cup (112g) canned artichoke hearts in water (drained and chopped)
1 lb (454g) raw flank steak
½ teaspoon salt
¼ teaspoon ground black pepper
1 tablespoon olive oil
Optional garnishes: fresh rosemary
Instructions:
Preheat the oven to 350 degrees F.
Heat a nonstick skillet over medium heat.
Add spinach to the skillet and cook for 1-2 minutes until just wilted, stirring occasionally. Turn off the heat. Add garlic, cream cheese and artichokes and stir until combined (don't wait until it's too thin, you'll want it to be just spreadable). Set the pan aside.
Butterfly the flank steak by slicing into the side and opening it up like a book, leaving the middle intact. Season all over with salt and pepper.
Spread the cream cheese mixture all over the steak, leaving an inch around the edges, then roll into a log and secure with toothpicks to hold it together. Slice it into 4 equal portions.
Heat a cast iron skillet and add the oil over medium heat. Sear each steak roll until browned (about 2-3 minutes per side). Cover with aluminum foil.
Place the cast iron skillet in the oven to finish cooking, about 12-15 minutes (or until cooked to your liking).
Notes:
When you butterfly the steak, slice with the grain. This will ensure that you slice against the grain once rolled into a log.