Celebrate summer with this colorful and healthy spin on pasta salad! It's hard to beat seasonal summer veggies and chickpea pasta tossed with a fresh lemon Dijon dressing and crumbled feta. Light on prep and heavy on flavor, this recipe multiplies easily and is great for potlucks and barbeques.
Servings: 5
Serving Size: about 1 ½ cups (200g)
Prep Time: 20 minutes
Total Time: 20 minutes
Nutrition Facts: 233 calories / 33g carbs / 10.5g protein / 8.5g fat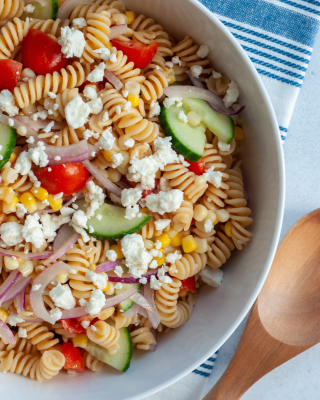 Ingredients:
For pasta salad:
6 oz (170g) uncooked "Barilla" chickpea rotini
1 cup (165g) fresh or frozen corn kernels
1 cup (52g) sliced cucumber
1 cup (149g) cherry tomatoes (halved)
½ cup (120g) red onion (diced or thinly sliced)
⅓ cup (37g) "Athenos" crumbled reduced fat feta cheese
For dressing:
2 tablespoons (30g) red wine vinegar
2 tablespoons (30g) fresh lemon juice (the juice from 1 lemon)
2 tablespoons(27g) olive oil
1 ½ tablespoons (24g) Dijon mustard
¼ teaspoon salt
Fresh ground pepper
Instructions:
Cook pasta according to package directions. Lightly steam corn in 1-2 inches of water on the stovetop for about 5 minutes. Just until warmed through – don't overcook!
Whisk dressing ingredients together in a small bowl.
In a large bowl, toss cooked pasta, corn, cucumber, tomatoes, onion, and dressing. Sprinkle with feta cheese.
Serve room temperature or chilled. Enjoy as a side or alongside your favorite protein. Store leftovers in the refrigerator in an airtight container for up to 5 days.
Notes:
This recipe is easily multiplied – make a double batch to feed a crowd! However keep in mind that it doesn't freeze well, so it's best enjoyed fresh within 5 days.
You can also add 12 ounces (340g) of chopped cooked chicken breast to this salad. The macros per 270g serving are: 33g carbs / 31g protein / 11g fat / 341 calories.
Make this recipe vegan by leaving out the feta cheese. The macros per 195g serving are: 32.5g carbs / 9g protein / 8g fat / 220 calories.