Our high protein Vegan Chili is taking Meatless Monday to the next level! Each bite of this hearty chili is packed full of aromatic spices, beans, tomatoes, and green chiles and is the PERFECT antidote for a blustery fall day. Plant-based ground ups the protein ante, giving each serving over 25g of protein. This recipe is freezer-friendly and perfect for meal prep too!
Servings: 6
Serving Size: 1 ½ cups (375g)
Prep Time: 15 minutes
Total Time: 45 minutes
Nutrition Facts: 404 calories / 46.5g carbs / 25.5g protein / 15g fat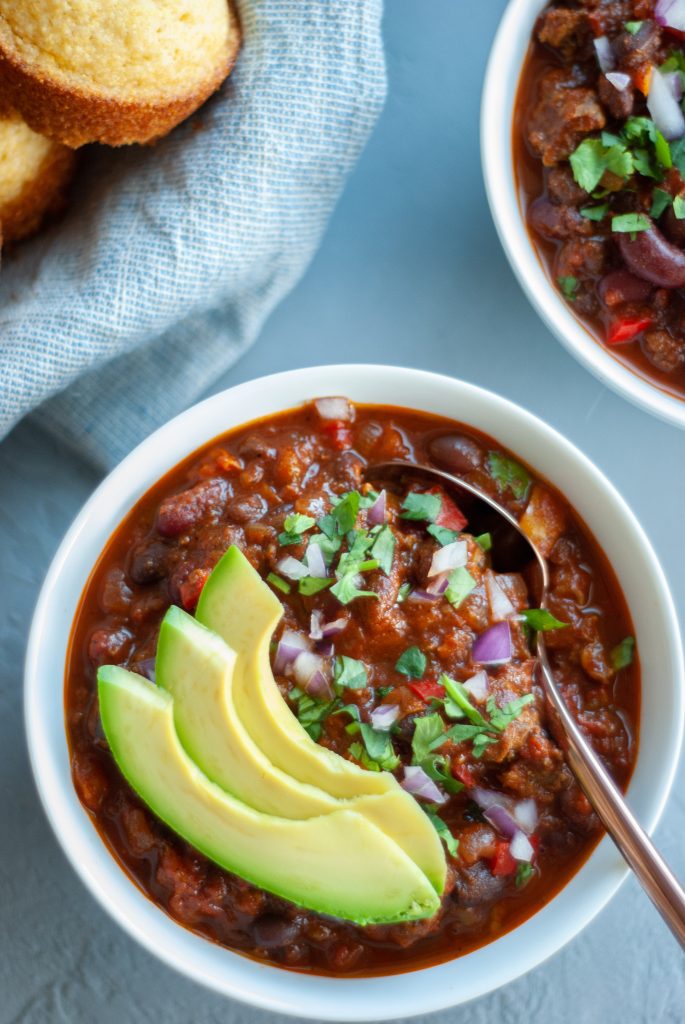 Ingredients:
1 teaspoon canola oil
1 cup diced yellow onion (about 1 medium)
2 ½ cups diced bell pepper (about 2 peppers)
1 lb (454g) "Beyond Meat" Beyond Beef plant-based ground
2 tablespoons chili powder
2 tablespoons ground cumin
2 teaspoons dried oregano
1 28-oz can crushed tomatoes
1 14-oz can kidney beans (rinsed and drained)
1 14-oz can black beans (rinsed and drained)
1 4-oz can chopped mild green chiles (un-drained)
1 cup vegetable broth
1 ½ teaspoons salt
Instructions:
Heat oil over medium-high heat in a large pot. Add diced onions and peppers to the pan and cook for 5-7 minutes, stirring occasionally, until they're softened.
Add the plant-based ground, chili powder, cumin, and oregano to the pot and stir well with a wooden spoon. Use the back of the spoon to break up the ground into crumbles. Cook for another 5 minutes, stirring often.
Add the remaining ingredients (canned tomatoes, beans, chiles, broth, and salt) to the pot and stir well. Bring the chili to a simmer, reduce the heat to low, cover, and cook for 30 minutes until the veggies are tender.
Season to taste with additional salt and pepper if desired. Garnish with fresh cilantro, red onion, avocado, or vegan cheese (macros not included.) Serve plain or with cornbread, rice, quinoa, or a side salad.
Store leftovers in an airtight container in the refrigerator for up to 5 days, or in the freezer for up to 3 months.
Notes:
You can use any plant-based ground beef substitute for this recipe, although if you select a different brand the macros will vary.
---
Some of the links above are affiliate links, which may earn Macrostax a commission at no extra cost to you.