This 15 minute Vegan Italian Sausage Pasta skillet dinner is so full of flavor and texture you'll never even notice it's meat free! Gluten-free chickpea pasta adds a healthy dose of fiber and protein, and mushrooms and spinach throw in an extra serving of veggies for the day. And when you add in marinara and Italian spiced meat-free sausage – it's hard to resist this flavorful meal!
Servings: 4
Serving Size: 1 ¾ cups (280g)
Prep Time: 15 minutes
Nutrition Facts:  437 calories / 43.5g carbs / 37g protein / 15.5g fat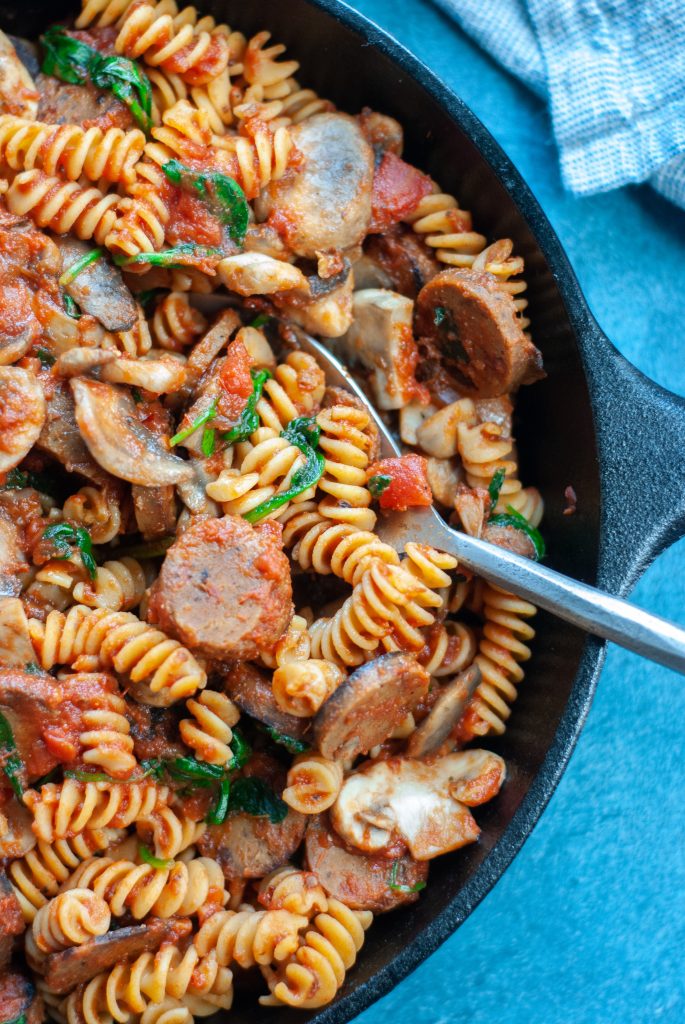 Ingredients:
5 oz (143g) uncooked Banza chickpea rotini
1 teaspoon olive oil
4 links (368g) "Field Roast" Italian sausage (sliced)
8 oz (227g) sliced mushrooms (1 standard container)
1 ½ cups (375g) "Bertolli" marinara sauce
1 teaspoon Italian seasoning
3 cups (90g) baby spinach
Instructions:
Cook pasta per package directions.
Meanwhile, heat oil in a medium saucepan over medium-high heat. Add the sliced mushrooms and sausage to the pan and saute for 5 minutes until the mushrooms are softened and the sausage is lightly browned.
Add the spinach, marinara, and Italian seasoning to the pan and cook for another 5 minutes until the sauce is warmed through and the spinach is wilted. Season to taste with salt and pepper.
Toss with chickpea pasta and serve. Garnish with parsley, basil, or red pepper flakes if desired.
Notes:
You can substitute most brands of marinara, the macros are generally fairly similar!