Don't you just love it when a delicious meal makes a Wednesday feel extra special? We do too! Our Garlic Dijon Pork Tenderloin with Roasted Potatoes is worthy of any special occasion, but is ready in under an hour and is weeknight easy. It's hard to beat juicy pork tenderloin and crispy roasted potatoes smothered in a tangy garlic Dijon dressing!
Servings: 6
Serving Size: 4.75oz (137g) cooked pork with 1 cup (135g) potatoes
Prep Time: 20 minutes
Total Time: 50 minutes
Nutrition Facts:  370 calories / 35g carbs / 36.5g protein / 10.5g fat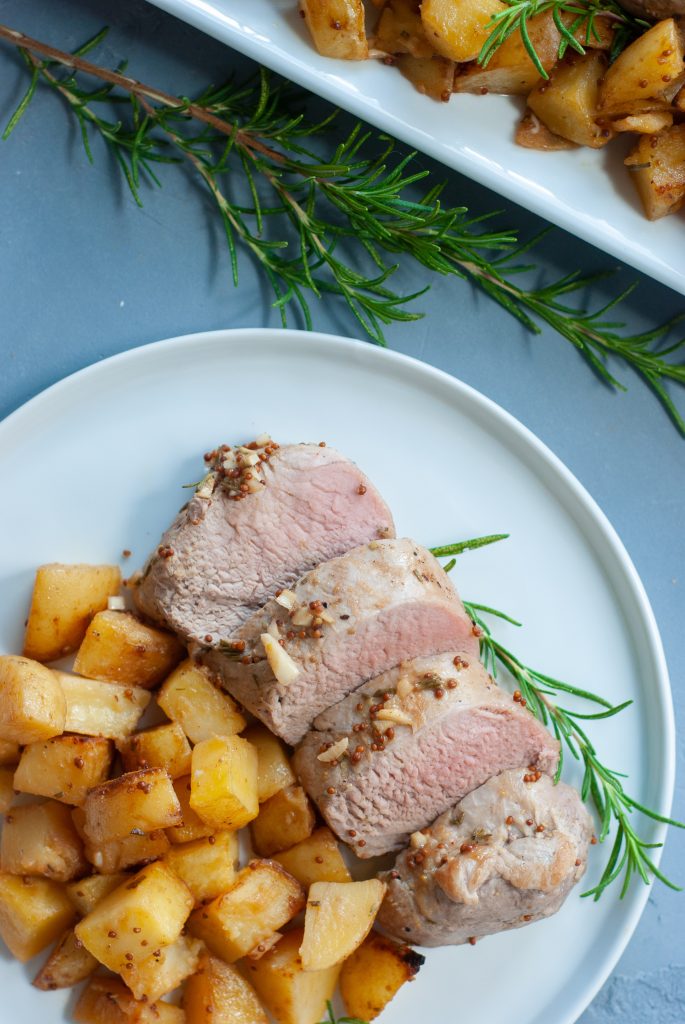 Ingredients:
3 tablespoons (41g) olive oil
2 lb (907g) gold potatoes
½ teaspoon salt
2 lb uncooked pork tenderloin
3 tablespoons (49g) Dijon mustard
3 cloves garlic (minced)
2 tablespoons (36g) soy sauce (or Tamari if gluten-free)
2 tablespoons (42g) honey
1 teaspoon dried rosemary (or 1 sprig fresh, chopped)
Instructions:
Preheat the oven to 350 degrees and line a 9×13-inch baking dish with foil.
Dice the potatoes into ½-inch cubes (leaving the skin on). Heat 2 tablespoons of the oil in a large skillet over medium-high heat.
Add the potatoes to the hot oil and cook for 5 minutes without turning. Toss, and cook for another 5 minutes without turning. Sprinkle with the salt. Remove from the pan.
Season the pork with salt and pepper and place in preheated skillet. Sear both pieces on all sides until golden. Place in the prepared baking dish.
Mix the remaining 1 tablespoon olive oil, mustard, garlic, soy sauce or Tamari, honey, and rosemary together in a small bowl.
Spoon the garlic Dijon sauce over the pork tenderloin. Spread the potatoes evenly around the pork.
Cover with aluminum foil and bake for 25-28 minutes or until the internal temperature of the pork registers 145 degrees on a meat thermometer.
Remove the tenderloins from the oven to a cutting board. Cover with aluminum foil and let rest for 5 minutes.
Meanwhile, return the potatoes to the oven (no foil) and cook under the broiler for 5-7 minutes until the potatoes are golden brown.
Serve sliced pork medallions with a side of roasted potatoes. Garnish with fresh herbs if desired.
Notes:
The most common variety of gold potatoes are "Yukon Golds", which have a creamy texture and slightly sweet flavor. However, you can buy any variety of potatoes that you find at your grocery store. If you substitute Idaho potatoes we recommend peeling them before dicing.