As you may know, CrossFit is what I like to call my "second life"… it is a hobby that I am very invested in. I am first and foremost a math Ph.D. student (hence the nickname "mathlete"), and looking to graduate in about ONE YEAR! Lets all take a moment to say a quick prayer …I'm kidding of course, but its been a long road! In the fall of 2018, I'll be going on my ELEVENTH year of "college"- four years as an undergraduate, one year studying math in Budapest, Hungary, and I will be entering my 6th year in a Ph.D. program at Rice. Somewhere in the mix of all of this, I became a competitive CrossFitter.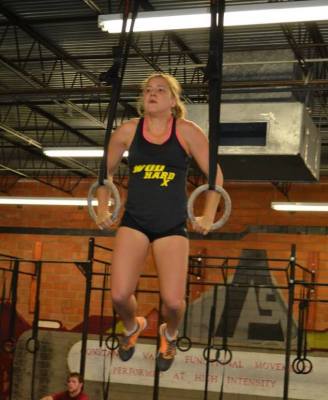 In January of 2013, after spending the last few years battling an eating disorder, I became serious about regaining control over my life. I joined a Crossfit gym and never looked back. I was determined to use the gym to overcome my eating disorder; I wanted to learn to fuel my body and become the strongest, fittest version of me.
First, let me be honest. I was starting from ground level and FAR FROM a competitive athlete. I was 88lbs, I couldn't back squat my body weight and I couldn't get the rower to read anything under a 2:05 pace. I never thought I'd be as strong as (*insert the name of the strongest girl in your gym*), and I didn't even know that the CrossFit games existed. But, I went to the gym everyday with the goal to become better than I was yesterday, and my choices outside of the gym reflected this goal. I signed up for the 2013 Crossfit open, where I PRd my snatch at 75lbs and finished 6316th. I loved every minute of it.
Eight months later, I had made it up to 135lbs and had all of the energy in the world- its amazing what proper nutrition will do (see future posts for how this has drastically improved since following MACROSTAX)! I moved to Houston for graduate school and immediately found a gym. I loved Crossfit, and would stay after the usual hour long class to work on my weaknesses. I got myself on a squat program, because… oof, can you say chicken legs? I would row repeats because I was sick of getting beat off the rower during workouts. I just wanted to get better.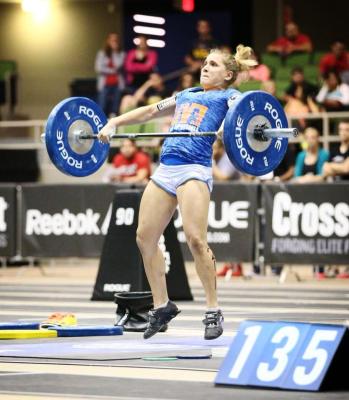 In October, with a lot of… to put it lightly… "encouragement", I entered my first local Crossfit competition. In the final workout, I got CRUSHED by a heavy wallball and 85lb overhead squats. I DNF'd (did not finish), while EVERYONE ELSE finished, and I will forever remember feeling like I was chewed up and spit out by that workout. I repeated it many times in the months following… until it no longer owned me.The following March, I signed up for my second Crossfit Open. I was excited to see how much I could improve upon my placement from the previous year. A few weeks in, to my astonishment, I found myself in a regional qualifying position. In 2014, I made my first regional appearance. I witnessed competitive CrossFit for the first time, first hand, and I was BLOWN AWAY by how fast everyone on that floor was moving. It was incredibly inspiring, and I realized that I had so much more to improve upon. What stood out to me the most that year? The workout that I felt was my biggest weakness, the workout that absolutely crushed me- 21-15-12-9-6-3 strict Hand Stand Push Ups, Front Squats and Bar Facing Burpees. Just as before, I was determined to overcome weaknesses and own that workout. I have repeated it every year since 2014.
The following year, I started following MisFit Athletics for more complete programming. Since then, I have qualified for regionals three more times and the Crossfit games twice. Most recently, I have gotten more serious with regard to dialing in my nutrition outside of the gym and started an exciting partnership with Macrostax!
So, why did I take you so far back, and leave out the later details? Because in all honesty, my mentality and my approach to training hasn't changed one bit, and I wouldn't be where I am today without the mentality that I had when the competitive Crossfit was far out of reach. Of course I want to get back to the games, but that's not 'my why'. My why is to be better than yesterday, to enjoy life and live it to the fullest, and to become the best version of me that I can be, and that is why I've committed myself to counting macros and focusing on nutrient timing as suggested by Macrostax.