We're not sure about you guys, but when we think of July 4th, what comes to mind is all the delicious dishes we get to bring to a summer cookout with family and friends. Nothing makes us happier than making recipes that allow people to enjoy themselves while still hitting their macros! As you get ready to celebrate, check out our list below for our top 10 Macrostax recipes–including entrees, sides, and desserts–to make this Independence Day.
1. BBQ Chicken with Lemon-Dill Potato Salad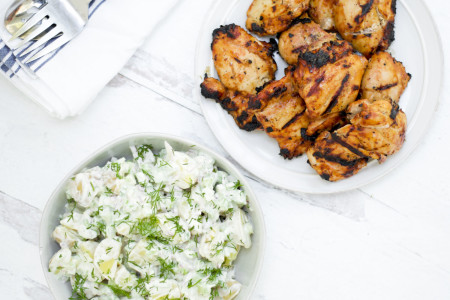 Perfect for a summer cookout, this easy grilled bbq chicken with lightened up lemon-dill potato salad keeps things easy and delicious. An American summer classic, this combo is sure to be a crowd pleaser!
Nutrition Facts: 290 calories / 32g carbs / 24g protein / 7.4g fat
Find the recipe here.
2. BBQ Pulled Pork Sandwiches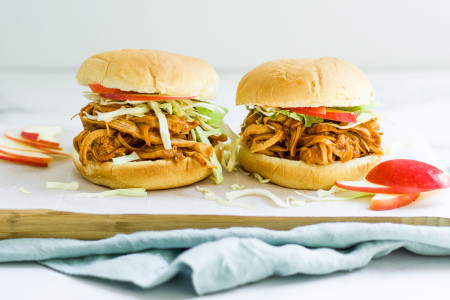 These BBQ pulled pork sandwiches are perfect for busy weekdays. Set in the crockpot in the morning and dinner is waiting for you when you get home. A mix of sweet and savory, these sandwiches will satisfy all!
Nutrition Facts: 349 calories / 39g carbs / 29.5g protein / 8.5g fat
Find the recipe here.
3. Paleo Jerk Burger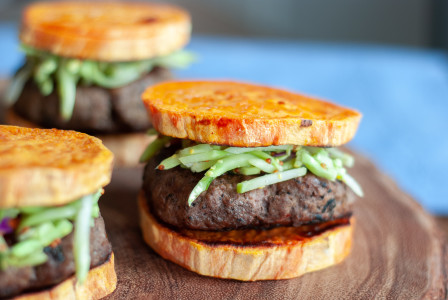 Burger cravings beware! With only 6 ingredients, this Paleo-friendly burger is SO simple and SO good. Jerk-seasoned beef patties and tangy broccoli slaw, sandwiched between roasted sweet potato rounds? We're in. This recipe would be perfect for your next summer barbecue.
Nutrition Facts: 334 calories / 30g carbs / 25g protein / 11.5g fat
Find the recipe here.
4. Summer Pasta Salad with Chicken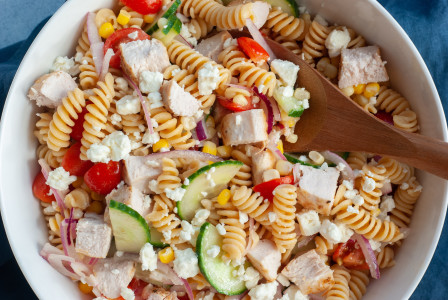 Celebrate summer with this colorful and healthy spin on pasta salad! It's hard to beat seasonal summer veggies and chickpea pasta tossed with a fresh lemon Dijon dressing and crumbled feta. Light on prep and heavy on flavor, this recipe multiplies easily and is great for potlucks and barbecues.
Nutrition Facts: 233 calories / 33g carbs / 10.5g protein / 8.5g fat
Find the recipe here.
5. Confetti Corn Salad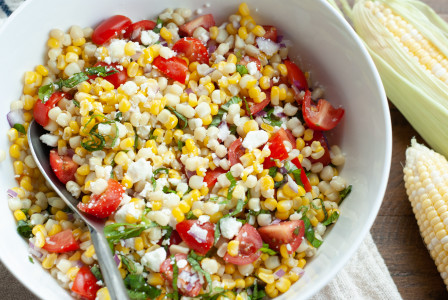 This fresh, healthy salad is as colorful as they come! It's a great summer side dish that can do double duty at your next BBQ, or for next week's meal prep.
Nutrition Facts: 291 calories / 43g carbs / 8.5g protein / 9.5g fat
Find the recipe here.
6. Lightened Up Mac and Cheese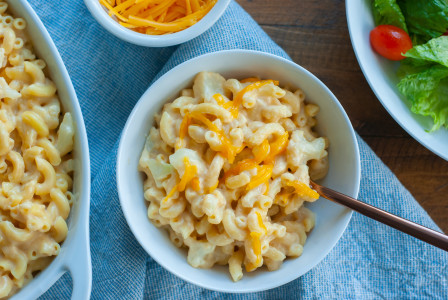 Mac and cheese that hits your macros?? It's Christmas come early! Our kid-friendly Lightened Up Mac and Cheese is creamy, cheesy, and checks ALL the comfort food boxes. And yet it's lower in carbs and higher in protein than traditional mac and cheese recipes. The secret is in the sauce! And an extra serving of veggies 😉
Find the recipe here.
Want to put a little twist on regular mac and cheese? Check out our new Buffalo Mac and Cheese and Spinach Artichoke Mac and Cheese too.
7. Lightened Up Deviled Eggs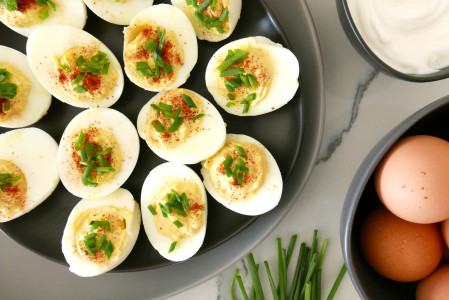 These deviled eggs aren't so devilish for your macros. We swapped mayonnaise for plain Greek yogurt to lower the fat and increase the protein, so you can enjoy these finger-licking appetizers on your own, or share with a group!
Nutrition Facts: 81 calories / 1g carbs / 8g protein / 5g fat
Find the recipe here.
8. Patriotic Popsicles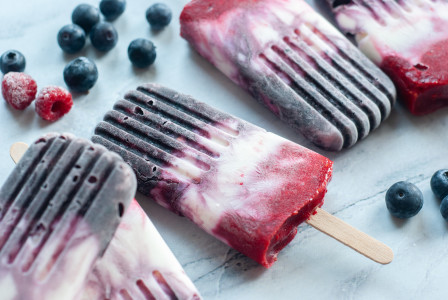 Popsicles: the quintessential summer treat and the perfect antidote to hot July days! This year get in the 4th of July spirit with red, white, and blue Patriotic Popsicles. We're transforming four simple ingredients – raspberries, blueberries, honey, and Greek yogurt – into sweet, tart, and refreshingly cold homemade popsicles. It's easier than you'd think. Jump in!
Nutrition Facts: 103 calories / 19g carbs / 4g protein / 2g fat
Find the recipe here.
9. Strawberry Poke Cake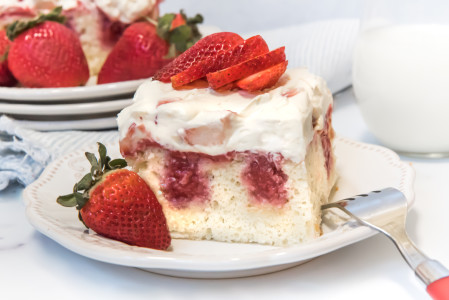 Strawberry is the star of this summery dessert, which features fluffy white cake, fresh fruit puree, and a light-as-air whipped topping!
Nutrition Facts: 287 calories / 55.5g carbs / 6g protein / 4.5g fat
Find the recipe here.
10. Easy Apple Turnover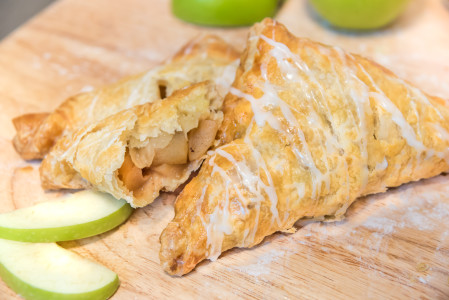 Turn store-bought puff pastry into a delicious homemade dessert with this quick and easy recipe. Serve your turnovers for dessert, as an afternoon pick-me-up, or pack them up for your next picnic lunch!
Nutrition Facts: 342 calories / 44g carbs / 4g protein / 16.5g fat
Find the recipe here.