Our new 1-Bowl Zucchini Muffins are full of whole wheat and veggie goodness! They're a healthy spin on one of our favorite snacks – the handy dandy, portable, freezer- and kid- friendly muffin. Spiced with cinnamon and ginger and naturally sweetened with honey and applesauce, it's hard to go wrong with these guys!
Makes: 12 muffins
Serving Size: 1 muffin
Prep Time: 10 minutes
Total Time: 30 minutes
Nutrition Facts: 187 calories / 28.5g carbs / 4g protein / 7.5g fat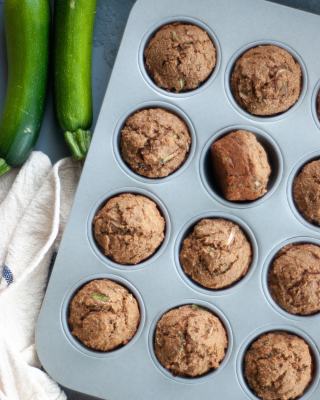 Ingredients:
½ cup (170g) honey
⅓ cup (73g) canola or avocado oil
½ cup (122g) unsweetened applesauce
2 eggs (100g)
2 teaspoons vanilla
2 cups (240g) whole wheat flour
2 teaspoons cinnamon
1 ½ teaspoons baking soda
1 ½ teaspoons baking powder
1 teaspoon ground ginger
½ teaspoon salt
2 cups (217g) grated packed fresh zucchini (about 1 medium)
Instructions:
Preheat oven to 350 degrees. Line a 12-cup muffin pan with paper liners or spray well with nonstick cooking spray.
In a large bowl, whisk the wet ingredients (honey, oil, applesauce, eggs, and vanilla.) Stir in the dry ingredients (flour, baking soda, baking powder, cinnamon, ginger, and salt) with a fork or wooden spoon, until no lumps of flour remain.
Fold in the grated zucchini. Divide the batter between the 12 muffin cups, filling each until almost full.
Bake for about 17-19 minutes, or until the muffins are rounded, lightly browned, and a toothpick comes out clean with just a few crumbs. Be careful not to overbake!
Remove from the oven. Let cool for 10 minutes, and then remove the muffins from the pan. Let cool completely to room temperature on a cooling rack.
Enjoy spread with butter, nondairy butter, your favorite nut butter, or plain.
Store muffins at room temperature for up to 5 days, in the refrigerator for up to a week, or in the freezer for up to 3 months.
---
Some of the links above are affiliate links, which may earn Macrostax a commission at no extra cost to you.