10 Minute Beef Tostada (noun): an individual taco-like pizza with a crunchy tortilla chip crust, piled sky high with juicy salsa beef, beans, fresh veggies, and CHEESE. That hits your macros. In under 10 minutes. Add this weeknight no-brainer to your dinner rotation – you'll be glad you did!
Makes: 8 tostadas
Serving Size: 2 tostadas
Prep Time: 10 minutes
Nutrition Facts:  451 calories / 36.5g carbs / 31.5g protein / 18g fat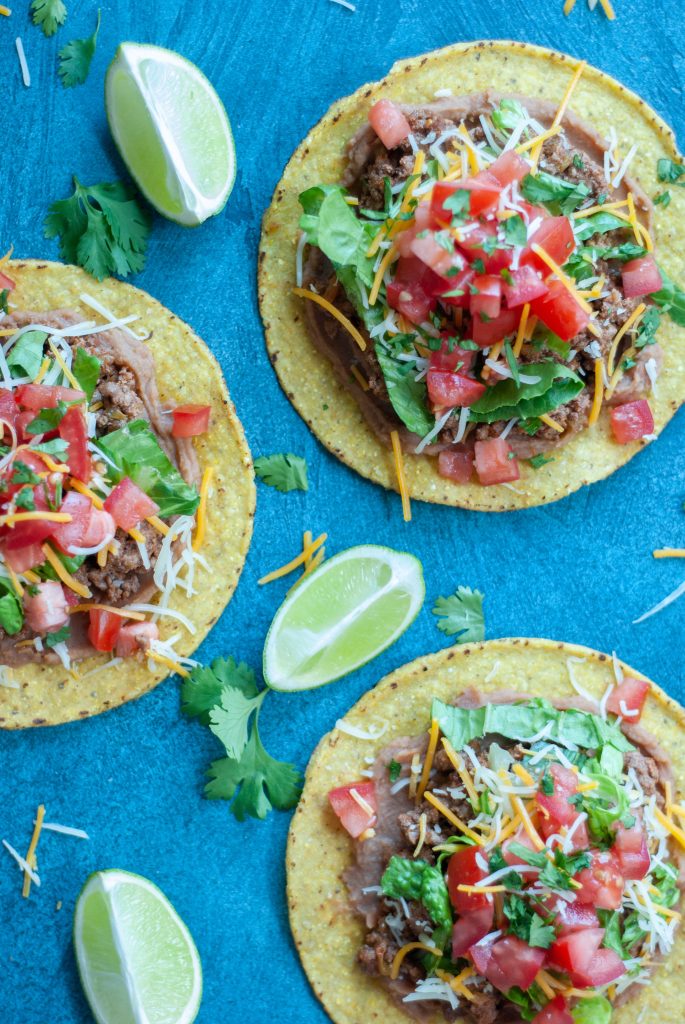 Ingredients:
1 lb 93% lean ground beef
½ cup mild salsa
1 tablespoon taco seasoning
8 "Mission" Estilo Casero corn tostada shells
1 cup "Rosarita's" fat free refried beans
2 cups shredded Romaine lettuce
1 cup diced fresh tomato
½ cup "Kraft" shredded Mexican blend cheese
Optional toppings: cilantro, lime wedges, dollop of sour cream or plain Greek yogurt, salsa, avocado, sliced radishes, or sliced jalapenos (macros not included)
Instructions:
Saute the ground beef in a skillet over medium-high heat along with the taco seasoning and salsa. Stir frequently, cooking for 5-6 minutes or until no longer pink. Remove from the heat and set aside..
Heat the refried beans in the microwave (about 0:30-1:00).
Lay out the 8 tostada shells. Spread each with 2 tablespoons of refried beans, ⅓ cup of cooked ground beef, ¼ cup lettuce, about 2 tablespoons of tomato, 1 tablespoon of shredded cheese, and any other toppings you'd like!
Notes:
These are best enjoyed immediately. If you prefer to meal prep in advance cook the ground beef and prepare the toppings, and store in separate containers in the refrigerator (for up to 5 days) until you're ready to heat and assemble.