Picture this: crispy tofu nestled in a bed of colorful veggies with a blanket of salty sweet peanut sauce. Um, yes please! Our Tofu Veggie Stir Fry is a plant-based meal for the books. Add rice, noodles, or enjoy as-is, you can't lose!
Servings: 4
Serving Size: about 1 ½ cups (432g) stir fry
Prep Time: 10 minutes
Total Time: 40 minutes
Nutrition Facts:  313 calories / 28g carbs / 20g protein / 14.5g fat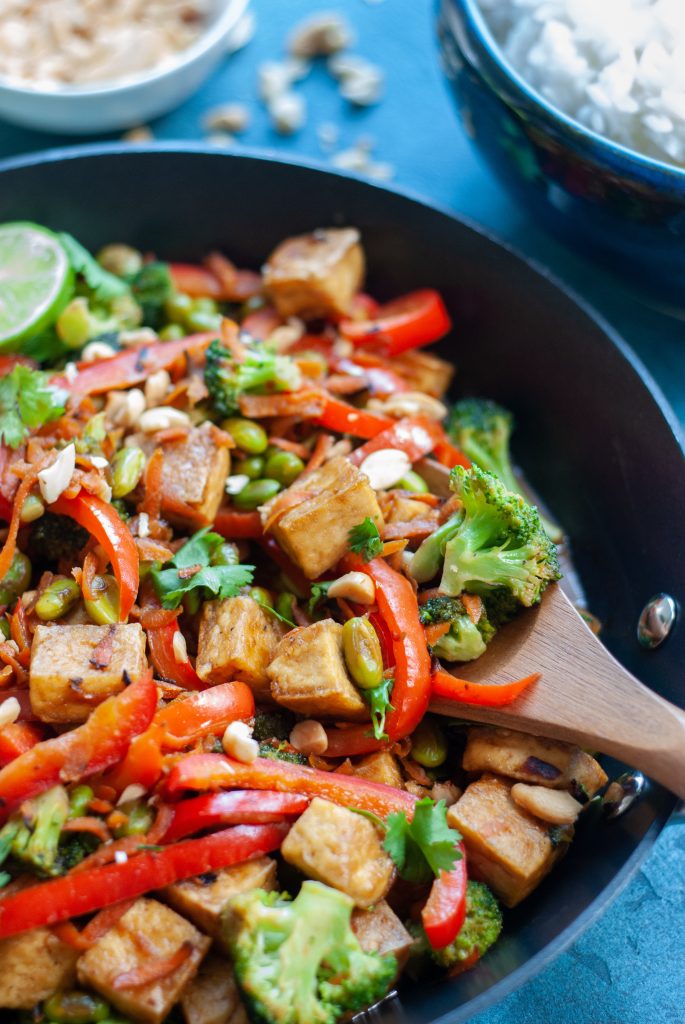 Ingredients:
1 block (14oz, 397g) extra firm tofu
2 teaspoons (9g) canola or avocado oil
1 tablespoon (8g) cornstarch
2 cups (312g) broccoli florets (trimmed to bite-sized pieces)
1 ½ cups (203g) sliced bell pepper (about 1 large)
1 cup (110g) grated carrots
1 cup (149g) frozen shelled edamame
Stir fry sauce:
¼ cup (72g) lower sodium soy sauce (or Tamari if gluten-free)
2 garlic cloves (6g) (minced)
1 ½ tablespoons (24g) creamy peanut butter
2 tablespoons (22g) brown sugar
2 teaspoons (9g) sesame oil
1 teaspoon (5g) lime juice
Instructions:
Preheat oven to 400 degrees and line a baking sheet with foil or spray with nonstick cooking spray.
Slice the tofu block into three 1-inch slabs. Lay out paper towels on a cutting board. Place the 3 slabs of tofu on top and cover with more paper towels. Cover with another cutting board and place a heavy pot on top. Drain for 15 minutes.
Dice the drained tofu into 1-inch cubes. In a medium bowl toss the tofu with 1 tablespoon of oil and the cornstarch. Spread evenly on the prepared baking sheet. Season with salt and pepper.
Bake for 30 minutes, turning the tofu squares every 10 minutes (for a total of 3 times.)
Meanwhile, whisk the soy sauce or Tamari, garlic, peanut butter, brown sugar, sesame oil, and lime juice together in a small bowl.
While the tofu is cooking, heat the remaining oil in a large skillet over high heat. Add the broccoli, bell pepper, carrots, and edamame to the pan and sauté for 10-12 minutes until the veggies are crisp-tender.
When the tofu has finished baking, add the stir fry sauce and tofu to the cooked veggies and toss well.
Serve alone or with cooked noodles or rice. Garnish with sesame seeds, fresh cilantro, chopped cashews or peanuts, or chopped green onions if desired (macros not included.)
Notes:
Canola or avocado oil are suggested because they are better high heat cooking oils than olive oil, which does best below 350 degrees.
---
Some of the links above are affiliate links, which may earn Macrostax a commission at no extra cost to you.