Mexican, meet Italian. Our Mexican Chicken Caesar Salad is mind bending in all the best ways! Romaine lettuce is layered with chicken, baked tortilla strips, avocado, cheese, and pumpkin seeds and tossed in a fat-free creamy cilantro lime dressing. This revamped version of a classic Caesar salad is the perfect way to celebrate the end of summer!
Servings: 4
Serving Size: about 2 ½ cups (300g)
Prep Time: 15 minutes
Nutrition Facts:  374 calories / 27g carbs / 36g protein / 14.5g fat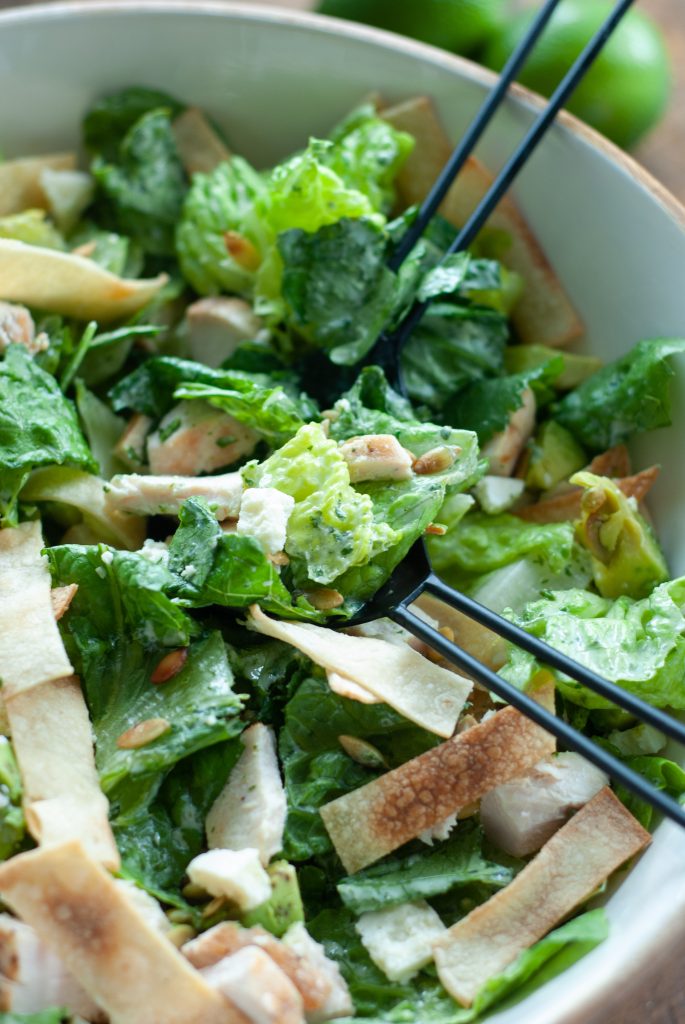 Ingredients:
4 "Mission" corn tortillas (94g)
7 cups (329g) Romaine lettuce
12 oz (340g) cooked chicken breast (diced)
1 avocado (136g) (pitted and diced)
1 ½ oz (43g) crumbled Cotija Mexican-style cheese
¼ cup (30g) toasted pumpkin seeds (pepitas)
For dressing:
1 cup lightly packed fresh cilantro
½ cup nonfat plain Greek yogurt
Juice of 3 limes (about 4-5 tablespoons)
2 teaspoons honey
1 garlic clove
¼ teaspoon salt
Instructions:
Blend the dressing ingredients until smooth using a food processor or blender. Set aside.
Preheat your oven to 400 degrees and spray a baking sheet with nonstick cooking spray.
To make the tortilla strips: slice the tortillas into thin strips, about 2 inches long. Spread evenly on the prepared baking sheet and spray thoroughly with cooking spray. Bake for 8-10 minutes or until golden brown (be careful, they burn easily!). Sprinkle with salt.
In a large bowl, toss the lettuce with the chicken, tortilla strips, avocado, Cotija cheese, and pumpkin seeds. Drizzle with dressing and toss to combine.
Notes:
Make this meal vegetarian by leaving out the chicken. Macros: 27C/9.5P/11.5F.
Time saver tip: buy pre-cooked chicken from the deli or use rotisserie chicken breast.
If making this salad ahead, store the pumpkin seeds, tortilla strips, and dressing separately from the lettuce and assemble right before enjoying.
You can use as much or as little Romaine lettuce as you prefer for this salad – the lettuce is a very low macro ingredient and will not change the overall numbers.
To toast raw pumpkin seeds: heat in a dry skillet over low-medium heat. Cook for 3-5 minutes, tossing occasionally. When the seeds begin to make popping sounds and turn a light golden brown remove them from the heat to cool.
---
Some of the links above are affiliate links, which may earn Macrostax a commission at no extra cost to you.