This light and lemony shrimp dish is the perfect *little bit special* weeknight dinner! Take 15 minutes and a handful of ingredients and you've got yourself a high protein, high flavor dinner. Serve over veggie noodles for a lighter meal or try pasta for a heartier version.
Servings: 4
Serving Size: 1 cup (180g) shrimp + 1 cup zoodles (120g)
Prep Time: 15 minutes
Nutrition Facts:  236 calories / 8g carbs / 26.5g protein / 14g fat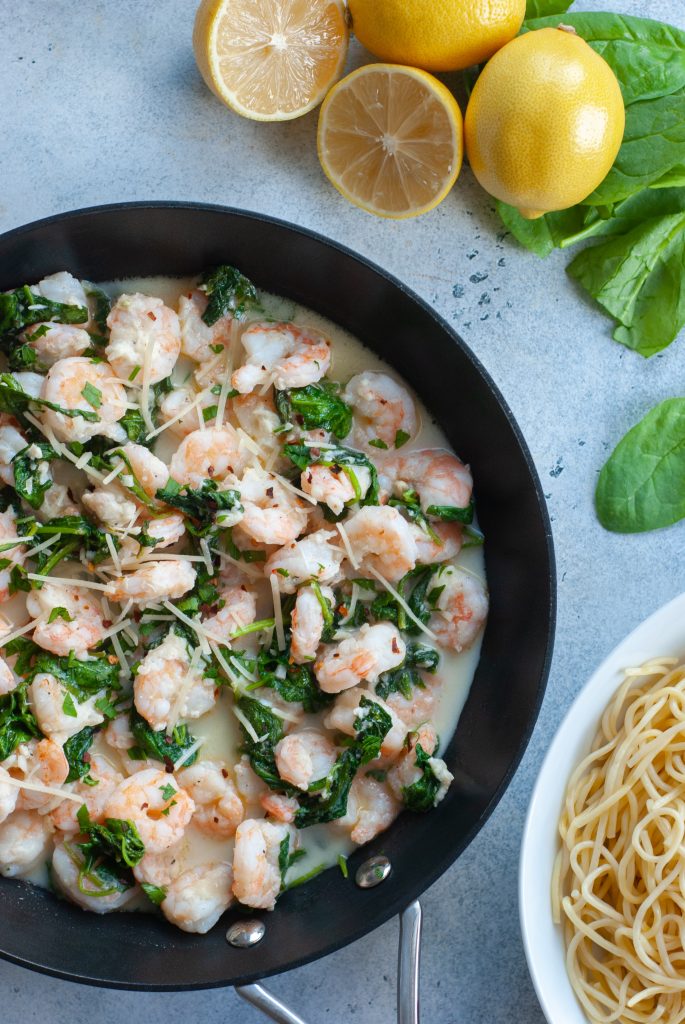 Ingredients:
3 tablespoons (41g) olive oil
1 ½ lb (680g) raw shrimp (peeled and de-veined)
2 10-oz containers (606g) raw zucchini noodles
5 cups (150g) raw baby spinach
3 garlic cloves (minced)
½ cup (40g) shredded Parmesan cheese
4 tablespoons (60g) fresh lemon juice (about 2 lemons)
¼ teaspoon salt
Fresh ground pepper
Optional: ½ teaspoon red pepper flakes, fresh parsley
Instructions:
Heat olive oil in a medium skillet over medium heat. Add shrimp to pan, season with salt and pepper, and cook for 2-3 minutes (without turning.)
While the shrimp is cooking heat a separate skillet over medium-high heat and add the zoodles to the pan. Sauté until just barely softened (about 4-5 minutes.)
Toss the shrimp, add the garlic and spinach to the pan, and sauté for another 2-3 minutes until the shrimp is cooked through and spinach is barely wilted. Remove the pan from the heat.
Sprinkle the shrimp mixture with Parmesan, lemon juice, salt, and pepper. Toss to combine.
Serve the shrimp with a few spoonfuls of sauce over the zucchini noodles. Garnish with red pepper flakes, fresh parsley, or lemon wedges if desired.
Notes:
You can also serve this Lemon Garlic Shrimp over regular spaghetti noodles for a higher carb meal. The macros for 1 cup (180g) of shrimp alone (without zoodles) are: 3C/25P/14F.