Alcohol free? No problem! Mocktails can be just as delicious and eye-catching as their cocktail counterparts. And our Raspberry Mule Mocktail is here to prove it! Perfect for holiday gatherings or a casual Tuesday night, take your hydration game to the next level with this refreshing cooler!
Servings: 1
Prep Time: 5 minutes
Nutrition Facts:  42 calories / 12g carbs / 1g protein / 0.5g fat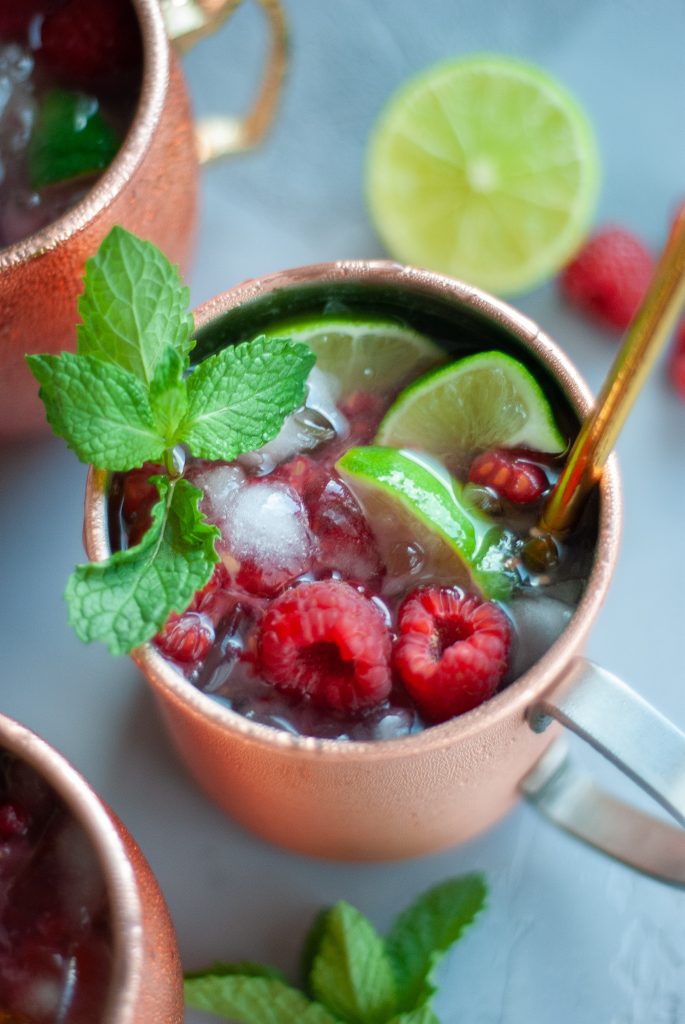 Ingredients:
1 ½ oz fresh raspberries (about 8 berries)
1 fresh lime (cut into 4 wedges)
4 oz diet ginger beer
3 oz lime flavored sparkling water (unsweetened)
Crushed ice
To garnish: fresh mint
Instructions:
Juice 3 of the 4 lime wedges by squeezing into a glass or copper mug. Muddle (mash) the squeezed lime wedges and raspberries (save 2-3 berries for a garnish) in the bottom of the glass.
Fill about ¾ of the glass or mug with crushed ice. Top with the sparkling water and ginger beer.
Stir gently. Garnish with the reserved raspberries, remaining lime wedge, mint, and a straw if desired.
Notes:
If you don't have a "muddler" (generally used to crush fresh fruit for cocktails), use a sturdy wooden spoon or fork to muddle (mash) the lime and raspberries to release their juices..
It's important to use ginger beer (not ginger ale) for this recipe!