Cooking for one? Cooking for eight? Or, hoping to avoid cooking altogether? This 15-Minute BBQ Chicken Pizza is the recipe for you! It's tangy, melty, crispy, just a little bit spicy, AND is personal sized. Aka, sharing optional 😉
Servings: 1
Prep Time: 5 minutes
Total Time: 15 minutes
Nutrition Facts: 420 calories / 43.5g carbs / 33.5g protein / 13.5g fat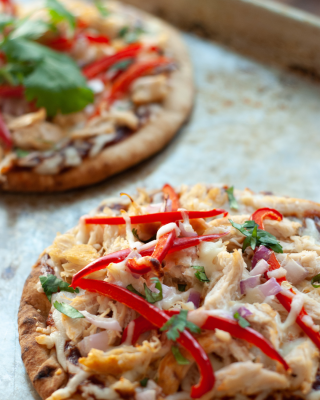 Ingredients:
1 "Kronos" wheat pita bread (79g)
3 tablespoons (48g) "Stubb's" original Bar-B-Q sauce
2oz (57g) cooked chicken breast (shredded or diced)
⅓ cup (37g) "Kraft" part-skim shredded mozzarella cheese
⅙ bell pepper (19g), thinly sliced
1 tablespoon (15g) finely chopped red onion
Instructions:
Preheat oven to 400 degrees. Line a baking sheet with foil or spray with nonstick cooking spray.
Spread barbeque sauce evenly on pita bread, leaving a ½-inch border around the edges. Top with the mozzarella, chicken, bell pepper, and red onion.
Bake for 8-12 minutes or until the cheese is melted.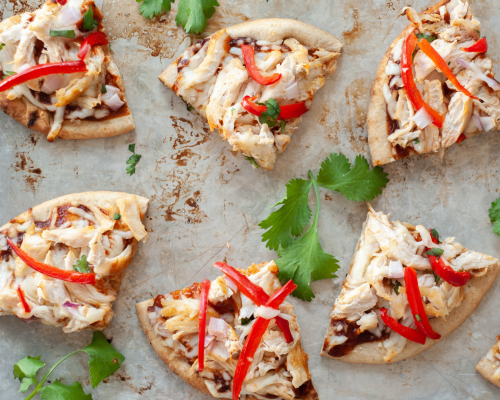 Notes:
Use shredded rotisserie chicken breast or buy pre-cooked grilled chicken from the deli section to save time.
If the bell pepper or onions get too browned, cover pizza loosely with a piece of aluminum foil for the remainder of the cooking time.
Customize the veggie toppings according to your preference – feel free to omit the bell peppers and onion, or add extra! The macros will be very similar.