This make-ahead recipe is begging to join your weekday lunch rotation! Roasted cauliflower, quinoa, and chicken are tossed in a tangy vinaigrette flavored with curry powder. Plus these bright, bold flavors get better each day it's stored in the fridge. Bonus!
Servings: 4
Serving Size: 1 ⅓ cups (213g)
Prep Time: 15 minutes
Total Time: 30 minutes
Nutrition Facts: 288 calories / 26g carbs / 27.5g protein / 8g fat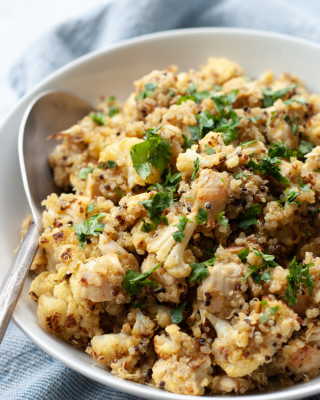 Ingredients:
3 cups (321g) cauliflower (chopped into small bite-size pieces)
2 cups (370g) cooked quinoa
2 cups (280g) chopped cooked chicken breast
For dressing:
¼ cup pulp-free orange juice
1 tablespoon red wine vinegar
1 tablespoon olive oil
2 teaspoons mild curry powder
¼ teaspoon salt
Instructions:
Preheat oven to 375 degrees. Line a baking sheet with foil and spray with nonstick cooking spray.
Spread chopped cauliflower on baking sheet, season with salt and pepper, and spray lightly with cooking spray. Bake for 20-25 minutes or until crisp-tender and lightly browned.
In the meantime, make the dressing by whisking together the orange juice, red wine vinegar, olive oil, curry powder, and salt.
In a medium bowl combine the chopped chicken, quinoa, and roasted cauliflower. Add the dressing and toss lightly.
Season to taste with additional salt and pepper. Garnish with chopped cilantro or parsley if desired.
Enjoy as-is or atop a bed of fresh greens. Store leftovers in an airtight container in the refrigerator for 3-5 days. This salad gets even more flavorful with time!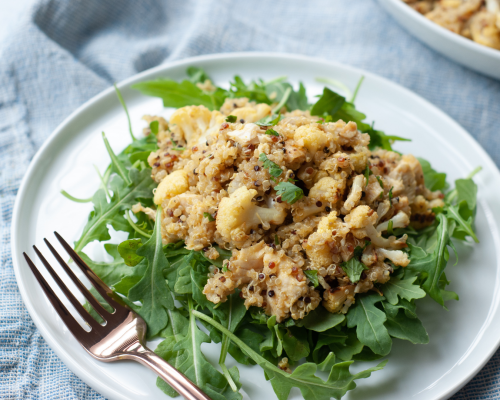 Notes:
Use any color quinoa (we used a mix of white and tri-colored quinoa.)
For a milder curry flavor use 1 ½ teaspoons of curry powder instead of 2 teaspoons.