This rainbow Lentil Power Bowl is packed with 22 grams of plant-based protein! Plus plenty of fiber and healthy fats. A great lunch meal prep option if you ask us 🙂
Servings: 1
Prep Time: 10 minutes
Total Time: 10 minutes
Nutrition Facts: 418 calories / 49g carbs / 22.5g protein / 16g fat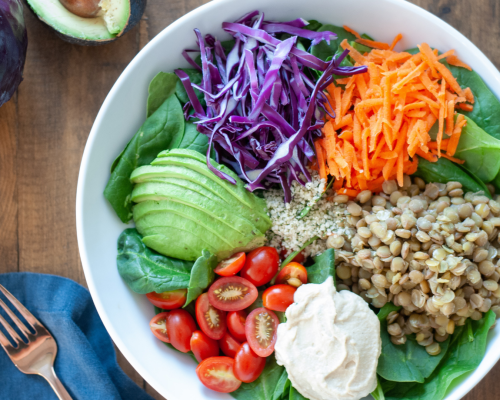 Ingredients:
2 cups (60g) baby spinach, arugula, or shredded cabbage
¾ cup (149g) cooked lentils
¼ cup (28g) grated carrots
¼ cup (45g) diced tomato
¼ (34g) avocado (sliced)
2 tablespoons (28g) "Sabra" classic hummus
2 tablespoons balsamic vinegar
1 teaspoon Dijon mustard
1 tablespoon (10g) hemp seeds
Instructions:
Combine the greens, lentils, carrots, avocado, and hummus in a bowl.
To make the dressing mix the Dijon mustard and balsamic vinegar together in a small bowl along with a pinch of salt and pepper.
Top the lentil bowl with the dressing and hemp seeds. Enjoy!
Notes:
You can use any color of lentils (brown, yellow, or green). Green lentils are usually the least mushy when cooked.
Feel free to load up on any of your favorite non-starchy vegetables – the macros for this meal will be virtually identical! Carrots, tomato, cucumber, bell peppers, sprouts, radishes, sliced red onion, cabbage, mushrooms, and greens are all very low in macros and easy to swap out.