Traditional Philly cheesesteaks are a classic, a comfort food, a street-side delight, and an on-the-go sandwich all rolled into one. Slices of savory beef and gooey cheese–what's not to love? We're putting a lightened up twist on this fan favorite by making a low-carb, extra-veggie, one-pan skillet version!
Servings: 6 servings
Serving Size: 1/6 skillet (135g)
Prep Time: 30 minutes
Total Time: 45 minutes
Nutrition Facts: 287 calories / 5g carbs / 30g protein / 16.5g fat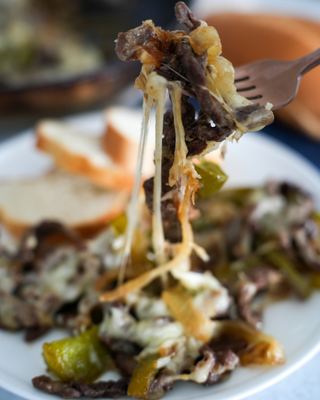 Ingredients:
1 tablespoon (15g) olive oil
18-ounces (510g) raw flank steak (thinly sliced into strips)
1 teaspoon salt
1 teaspoon garlic powder
1 teaspoon onion powder
½ teaspoon black pepper
1 medium (94g) yellow onion (sliced)
2 medium (228g) green bell peppers (sliced)
1 ½ cups (168g) "Sargento" Mozzarella & Provolone shredded cheese
Instructions:
Preheat the oven to 350 degrees.
Heat the oil over a large skillet on medium-high heat.
Add steak, salt, garlic powder, onion powder, and black pepper, and cook until brown. Remove from heat and set aside.
Reduce heat to medium and in the same pan, add onions and peppers and cook until soft and slightly caramelized, about 10 minutes.
Add beef back to the skillet and stir well.
Layer cheese on top and bake for 15 minutes, until the cheese is melted and bubbly.
Notes
To keep this dish low-carb, serve with cauliflower rice!
Baking the skillet lets the cheese get bubbly and golden brown on top. If you prefer to skip this step, or don't have an oven-safe skillet, cover your skillet with a lid on the stove for 10-15 minutes instead to let the cheese melt without overcooking the meat.