Although there are quite a few variations of pasta primavera, one thing always remains the same: loads of fresh veggies! That's what makes this pasta dish so light and healthy, and perfect for counting macros. Try our version with lightly seasoned chicken breast, a rainbow of colorful veggies, and fresh lemon juice that skips the cream.
Servings: 6 servings
Serving Size: 1/6 serving (386g)
Prep Time: 25 minutes
Total Time: 30 minutes
Nutrition Facts:  392 calories / 40.5g carbs / 32.5g protein / 11.5g fat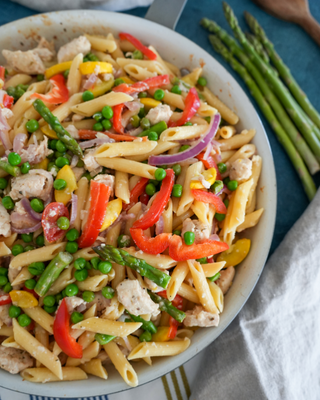 Ingredients:
8-ounce (228g) of uncooked penne pasta
1 tablespoon (15g) olive oil (divided)
1 lb (448g) raw boneless, skinless chicken breast (diced or cubed)
2 teaspoons salt (divided)
1 teaspoon garlic powder
1 teaspoon onion powder
1 teaspoon Italian seasoning
¼ teaspoon ground black pepper
2 cloves garlic (minced)
1 medium (175g) red onion (sliced)
1 medium (94g) red bell pepper (thinly sliced)
1 medium (200g) yellow squash (quartered)
8-ounces (230g) asparagus (ends trimmed and sliced into 2" pieces)
1 cup (160g) frozen peas
1 cup (149g) grape tomatoes (halved)
2 tablespoons (30g) fresh lemon juice
5-ounces (140g) fresh grated Parmesan cheese
Instructions:
Bring a pot of water to a boil and cook pasta according to directions on the box. Drain when done and save ½ cup of pasta water.
Heat ½ tablespoon of olive oil in a large skillet on medium-high heat. Add cubed chicken and season with 1 teaspoon each of salt, garlic powder, onion powder, Italian seasoning, and ¼ teaspoon black pepper. Cook for 7-8 minutes until chicken is cooked. Set chicken aside and return the skillet to heat.
Add the other ½ tablespoon of olive oil and saute garlic for 1-2 minutes until fragrant. Then add onion, bell pepper, zucchini, and asparagus and saute for an additional 5 minutes until veggies are tender but still have a little crisp for freshness!
In the same skillet or large pasta pot, add cooked pasta, cooked chicken, peas, tomatoes, and lemon juice and mix well.
Remove from heat and add parmesan cheese and stir to combine.
Garnish with fresh Italian parsley or extra Parmesan cheese (macros not included) and serve.
Notes
You can substitute any other pasta shape and vegetable and the macro differences will be negligible.
You can substitute chicken breast with any other protein such as plant-based substitutes, lean turkey, or shrimp. Macros may vary.