We're using all the macro-friendly tricks up our sleeve for everyone's favorite peanut butter and chocolate combo! This recipe includes powdered peanut butter, protein powder, and Lily's chocolate for a lower sugar, lower fat, and higher protein indulgence. Consider making a double batch, because they might not last long!
Servings: 12 servings
Serving Size: 1 peanut butter cup, 38g
Prep Time: 30 minutes
Total Time: 1 hour
Nutrition Facts:  134 calories / 13.5g carbs / 6.5g protein / 6g fat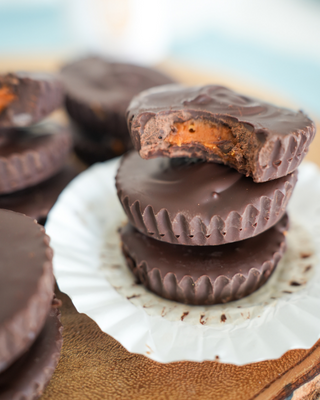 Ingredients:
8-ounces (225g) "Lily's" dark chocolate baking chips
¾ cup (78g) "PB2" powdered peanut butter
1 scoop (31g) "Optimum Nutrition Gold Standard 100% Whey", vanilla ice cream
5 tablespoons (75g) water
Instructions:
Prep a 12-muffin tin with paper liners and set aside.
In a bowl, melt the chocolate chips in the microwave for roughly 2 minutes in 30-second intervals, stirring between each until smooth and runny.
Spoon a small amount of melted chocolate into each muffin liner, and use the spoon to spread to the edges. Note that you don't need a lot of chocolate, just enough to cover the bottom of the liner otherwise your chocolate will be really thick to bite into!
Place the muffin tin in the freezer for about 10 minutes to set the chocolate.
In another bowl, mix powdered peanut butter, protein powder, and water until consistency is smooth but thick enough to hold its shape.
Spoon roughly half a tablespoon into each liner on top of the hardened chocolate. Press down on the tops of each peanut butter mixture with the back of a spoon so the tops of your peanut butter cups will be nice and flat.
Spoon the remaining melted chocolate on top until the peanut butter mixture is covered. Use your spoon to spread to the edges of the liner if necessary.
Place the tin back in the freezer for another 10 minutes. Once the chocolate has set, you can store them in an airtight container at room temperature, or in the fridge if you like a cold treat!
Notes
Top with flaky sea salt before the chocolate hardens if you like an extra salty-sweet combo!