Say hello to your on-the-go favorite. Blended cottage cheese and a water bath give these egg bites a smooth, velvety texture without all the fancy equipment. Pair these delicious protein-packed bites with fresh fruit or oatmeal for a macro-perfect breakfast!
Servings: 6 servings
Serving Size: 2 egg white bites (64g)
Prep Time: 15 minutes
Total Time: 45 minutes
Nutrition Facts:  119 calories / 2g carbs / 13g protein / 6g fat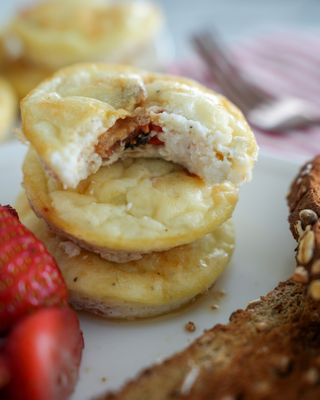 Ingredients:
1 medium (114g) red bell pepper (diced)
½ cup (113g) 2% cottage cheese
1 cup (113g) shredded Monterey Jack cheese
½ teaspoon salt
¼ teaspoon ground black pepper
1 ½ cups (339g) 100% liquid egg whites
Instructions:
Preheat the oven to 325 degrees.
Heat a nonstick skillet over medium heat. Add the diced bell pepper and saute for 5 minutes until tender. Remove from heat.
Meanwhile, blend cottage cheese, Monterey Jack cheese, salt, and pepper in a food processor or high-speed blender until smooth.
Pour the cheese mixture out into a large mixing bowl and add egg whites. Mix well with a spoon.
Prep a muffin tin plus a deep baking tray. Spray the muffin tin with nonstick cooking spray and add the cooked bell peppers to the bottom.
Pour or spoon egg white and cheese mixture on top, filling about ¾ of the way.
Place the muffin tin inside the deep baking tray.
Bring a pot of water to boil, then pour boiling water into the baking tray around the muffin tin, filling halfway up the sides. This "water bath" helps cook the egg bites with steam, creating a moist and velvety texture!
Bake for 40 minutes without opening the oven door to keep the steam in.
Let cool and enjoy immediately or store in the refrigerator and reheat in the microwave.
Notes