This protein-packed dish takes an "ear" out of traditional tamale recipes by using a corn-based ingredient too! Cornbread mix is the perfect time-saving option that still packs that sweet corn flavor. This recipe is perfect as finger-food for your next party, or as your weeknight meal prep.
Servings: 6 servings
Serving Size: 4 meatballs (124g or 31g/meatball)
Prep Time: 20 minutes
Total Time: 2 hours and 20 minutes
Nutrition Facts:  248 calories / 18g carbs / 20g protein / 10g fat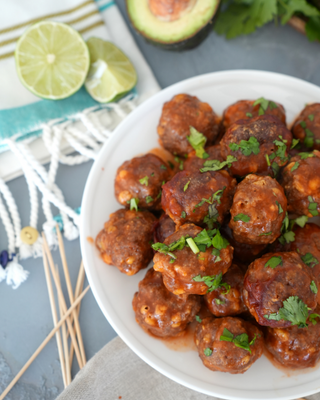 Ingredients:
1 lb (454g) 93% lean ground beef
⅔ cup (95g) "Krusteaz" Southern Cornbread & Muffin Mix
2 tablespoons (30g) 2% milk
½ cup (56g) shredded cheddar cheese
1 large (50g) egg (beaten)
1 teaspoon garlic powder
1 teaspoon onion powder
1 teaspoon chili powder
1 teaspoon ground cumin
½ teaspoon salt
2 cups (488g) "Old El Paso" red enchilada sauce
Instructions:
Preheat the oven to 400 degrees F. Prepare a baking sheet by lining with foil, parchment paper, or by spraying well with nonstick cooking spray.
In a large bowl toss together all ingredients except enchilada sauce. Be careful not to overmix to keep your meatballs tender! We find it easiest to use a fork or clean hands.
Roll the meat into 24 meatballs (about 2 tablespoons each). Use a cookie dough scoop if you have one! Place at least 1 inch apart on the baking sheet.
Bake for 10-12 minutes or until the meatballs are lightly browned, just cooked through, and a meat thermometer reads 160 degrees F.
Place meatballs in a slow cooker. Add enchilada sauce, pouring evenly over meatballs. Cook on low for 2 hours.
Serve when ready with your favorite Mexican dips: pico de gallo, salsa, guacamole, queso, or sour cream! Macros will vary.
Notes
The meatballs are freezer friendly! Once they are baked and cooled, place in a freezer-safe container or zip-top bag and freeze for up to 3 months. Thaw overnight in the refrigerator before reheating and serving.
You can substitute the cornbread mix for regular cornmeal. Macros may vary.
You can substitute red enchilada sauce for green enchilada sauce. Macros will be the same.