This super easy vegan dish packs a wonderful umami flavor from miso, a versatile secret ingredient that can be used in both savory and sweet dishes alike. And plant-based lovers can rejoice because we also added extra protein through chickpea rice, mushrooms, and nutritional yeast!
Servings: 4
Serving Size: 1/4 recipe (182g)
Prep Time: 5 minutes
Total Time: 30 minutes
Nutrition Facts: 288 calories / 43.5g carbs / 18g protein / 4g fat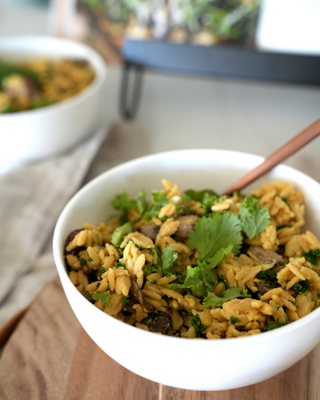 Ingredients:
1 ¼ cups (250g) "Banza" plain rice (the equivalent of 1 package)
½ teaspoon salt
3 cloves garlic (minced)
8-ounces (226g) mushrooms (sliced)
1 tablespoon (15g) white miso paste
3 cups (67g) raw kale (chopped)
2 tablespoons nutritional yeast
Pinch of black pepper
Optional: parsley
Instructions:
I
Cook Banza rice according to package directions and add ½ teaspoon of salt. When the rice has finished cooking, make sure to drain and set aside.
In a large saucepan over medium-high heat, add some nonstick cooking spray, minced garlic, mushrooms, and miso paste. Stir to combine to ensure the miso paste is thinned out well. You can add a tablespoon of water to help if necessary. Cook for about 5 minutes or until mushrooms are tender.
Add kale and reduce heat to medium and cook for an additional 3-5 minutes until the kale is wilted.
In a serving bowl, combine the cooked rice and vegetable mixture together.
Add nutritional yeast and a pinch of black pepper to taste. Mix well.
Garnish with freshly chopped parsley or other herb of choice and serve immediately or portion into meal prep bowls.
Notes
If you're making this dish for a meal prep, we recommend subtracting 1 minute from the cook time of the chickpea rice to make sure it holds its shape and texture.
You can substitute any preferred whole grain for the chickpea rice. Macros may vary.