This looks like your classic comfort dish on the outside, but we swapped in roasted cauliflower and ditched the butter for a much more macro-friendly version that doesn't sacrifice any of that rich flavor or creamy texture. Add bacon bits, green onions, and some cheddar cheese to enjoy those classic "loaded" toppings!
Servings: 8 servings
Serving Size: 1/8 recipe (614g)
Prep Time: 30 minutes
Total Time: 60 minutes
Nutrition Facts: 471 calories / 51g carbs / 35g protein / 14g fat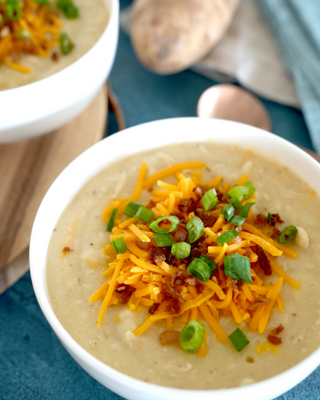 Ingredients:
1, 24-ounces bag (680g) cauliflower florets
2 tablespoons (27g) olive oil (divided)
3 cloves of garlic (minced)
1 medium (185g) yellow onion (diced)
3 lbs (1362g, about 4-5 large) russet potatoes (peeled and diced)
4 cups (960g) low-sodium chicken broth
2 cups (488g) 2% milk
1 bag (22-ounces, 623g) "Tyson Grilled & Ready" pre-cooked diced chicken breast
1 cup (227g) nonfat plain Greek yogurt
1 ½ cups (169g) shredded cheddar cheese
Salt and pepper to taste
Optional: green onion, bacon bits
Instructions:
Preheat the oven to 400 degrees F.
Prepare the cauliflower florets on a baking sheet and drizzle with 1 tablespoon of olive oil and salt and pepper to taste.
Roast the cauliflower for 25-30 minutes, until they are tender and some of the edges have browned a bit.
In a large pot over medium heat, add the remaining tablespoon of olive oil, garlic, and diced onion. Saute for about 5 minutes until the onions are soft and translucent.
Add in the potatoes and chicken broth and let cook until it starts to reach a simmer, just before boiling. Then cover with a lid and reduce heat to medium-low. Cook for an additional 15 minutes until the potatoes are tender.
Remove from heat, whisk in milk, and add the roasted cauliflower to the pot.
Using an immersion blender, blend the soup to desired texture. (See recipe notes below for blending options).
Return the pot to the stove and turn the heat back on to medium.
Once the soup starts to simmer, add in cooked chicken, plain yogurt, shredded cheese, and salt and pepper to taste. Let simmer for an additional 3-5 minutes.
When it's done, remove from heat. Garnish with bacon bits, green onion, and extra cheddar (macros will vary). Enjoy!
Notes
If you don't have an immersion blender, you can use a regular blender and blend the soup in portions.
You can blend the soup to your desired texture. Blend the whole mixture on high speed for 2-3 minutes if you prefer a smooth, creamy texture. If you prefer more potato chunks, strain out half the cooked potatoes from the pot first, then blend the remaining mixture well on high speed. Add the potato chunks back into the pot and finish instructions.
Substitute any brand of pre-cooked chicken breast or consider using rotisserie chicken.
Soup can be stored in the freezer in an airtight container for up to 4 months.