Day dreaming of a beach getaway? Well, we can't transport you there, but we can try our best! The tropical fruity flavors of this breakfast parfait will at least have your taste buds feeling like they're in the Caribbean. 
Servings: 1 parfait
Serving Size: 1 parfait
Prep Time: 5 minutes
Total Time: 5 minutes
Nutrition Facts: 260 calories / 29.5g carbs / 25.5g protein / 4.5g fat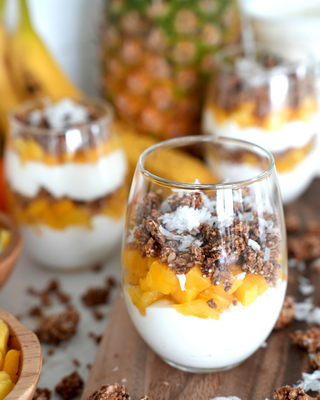 Ingredients:
1 cup (227g) nonfat plain Greek yogurt
⅓ cup (55g) pineapple (diced)
⅓ cup (55g) mango (diced)
¼ cup (23g) "Purely Elizabeth" original ancient grain granola
Instructions:
Measure out Greek yogurt into a bowl.
Top with diced fruit and granola. Enjoy!
Notes
Feel free to substitute with other tropical fruit like kiwi or banana, or even frozen options! Macros may vary.
You can use any brand of plain nonfat Greek yogurt, the macros will be nearly identical.
Top with coconut flakes for an extra tropical kick! Macros will vary.
Substitute any variety of granola but know that macros will vary across brands.