Matcha green tea powder is a healthy alternative to your morning coffee habit, while packing a ton of antioxidants. Make a batch of these protein-filled bites for the week and you've got the perfect little snack to keep you fueled throughout the day.
Servings: 12 bites
Serving Size: 1 bites, 32g
Prep Time: 5 minutes
Total Time: 5 minutes
Nutrition Facts: 154 calories / 11g carbs / 7.5g protein / 9g fat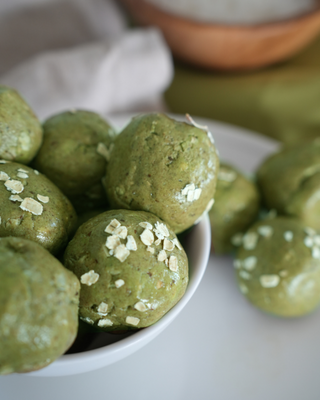 Ingredients:
½ cup (56g) almond flour
½ cup (40g) quick oats
2 rounded scoops (62g) "Optimum Nutrition Gold Standard 100% Whey", vanilla ice cream
1 tablespoon green tea matcha powder
¼ teaspoon salt
½ cup (125g) almond butter
¼ cup (85g) honey
1 teaspoon vanilla extract
Instructions:
Mix the first five ingredients (almond flour, oats, protein powder, green tea powder, salt) together in a medium mixing bowl.
Add the wet ingredients (almond butter, honey, and vanilla) and stir well with a fork or spatula. The dough will be thick!
Use a spoon to scoop about 1 tablespoon of mixture and roll between your palms to form a ball. You should have a total of 12 energy bites.
Refrigerate for 1-2 hours before enjoying. Store in an airtight container in the refrigerator for up to a week, or the freezer for up to 3 months.
Notes
For optional add-ins, we recommend folding in mini white chocolate chips, or rolling dried coconut flakes. Macros may vary.
Store in an airtight container on the counter for up to 5 days or in the freezer for up to 3 months.
You can also substitute maple syrup or agave nectar for the honey (macros will vary slightly.)