It doesn't get any easier than this! These enchiladas require just five ingredients. Use a sauce with your preferred level of heat and serve with all of your favorite fixings.
Servings: 6
Serving Size: 1 enchilada (216g)
Prep Time: 15 minutes
Total Time: 35 minutes
Nutrition Facts: 301 calories / 29.5g carbs / 24.5g protein / 11g fat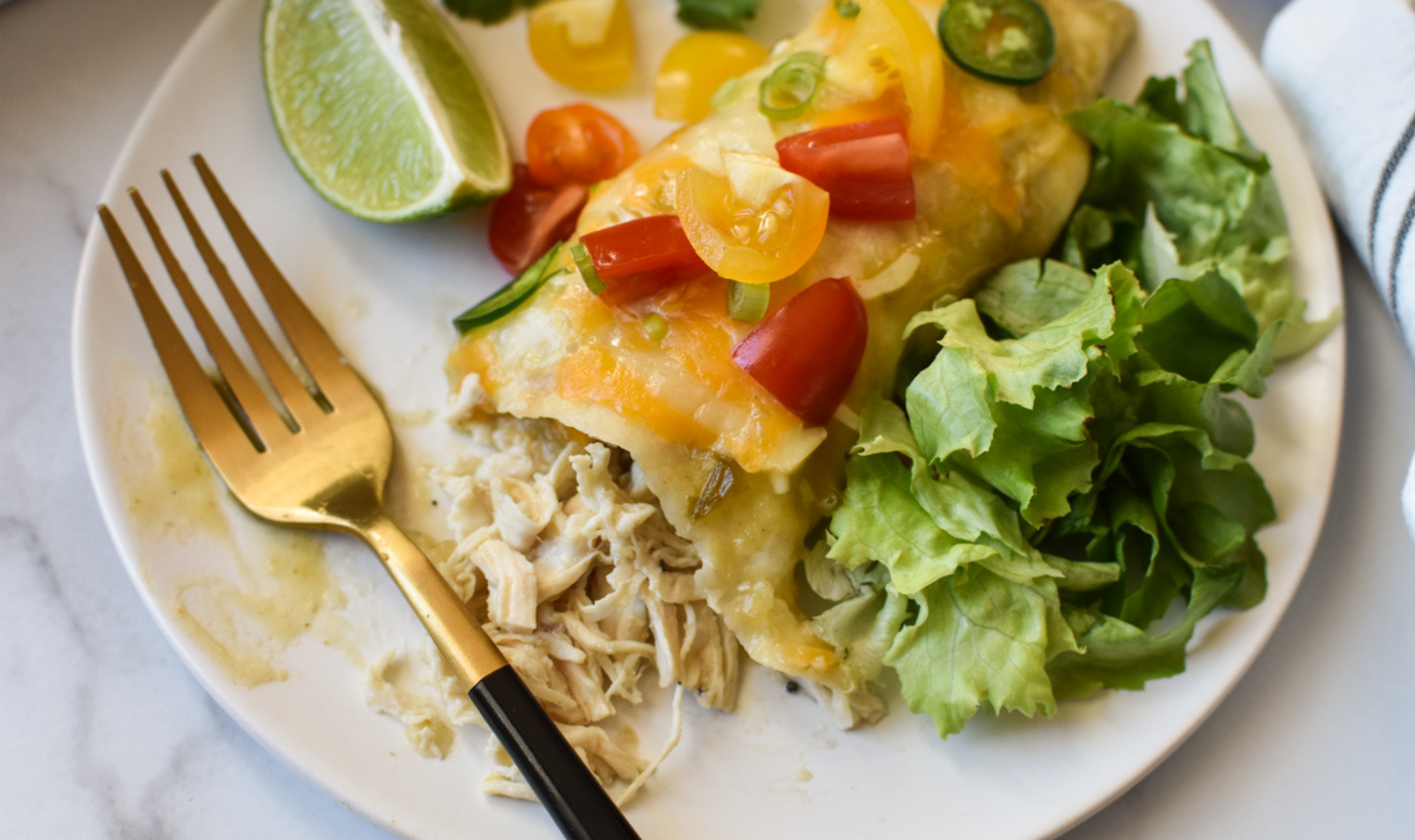 Ingredients:
3 cups precooked shredded chicken breast (459g)
1, 15-ounce can (425g) "Hatch" green chile enchilada sauce
½ teaspoon salt
6 (294g) "Mission" 7-8" flour tortillas
1 cup (112g) shredded Mexican blend cheese
Optional garnishes: shredded lettuce, chopped tomatoes, cilantro leaves, avocado, sliced jalapenos.
Instructions:
Preheat oven to 375 degrees F. Coat a large baking dish with nonstick cooking spray and add ½ cup of the enchilada sauce, spreading it around to coat the bottom. Set aside.
In a large bowl, mix the shredded chicken with ½ cup of the enchilada sauce and salt. Toss until well coated. Season to taste with additional salt and pepper if desired.
Fill each tortilla with ½ cup of the chicken mixture and roll, placing seam-side down in the baking dish. Pour the remaining enchilada sauce over the top, then sprinkle cheese evenly. Cover with foil.
Bake for 20 minutes or until the cheese is bubbly and completely melted.
Top with chopped tomatoes, shredded lettuce, avocado slices, fresh cilantro, or sliced jalapenos (macros not included).
Notes:
Corn tortillas can also be used but will likely require 10-12 instead of 6 as they are smaller. Different brands of flour tortillas can also be substituted. Macros will vary.
Use any brand of green chile sauce but note that macros will vary across brands.