Say goodbye to third-party delivery fees, long wait times, and 'this-might-have-been-hot-at-some-point-in-time' take-out. Our Sweet and Sour Chicken can be made right at home with nothing more than a few basic ingredients and half an hour of your time.
Servings: 6
Serving Size: 1 cup (315g)
Prep Time: 10 minutes
Total Time: 30 minutes
Nutrition Facts: 307 calories / 33.5g carbs / 36g protein / 4g fat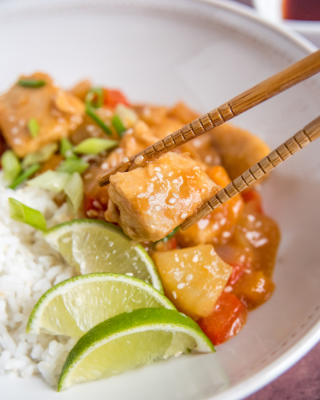 Ingredients:
1, 20-ounce can (425g) pineapple chunks in 100% juice (drained)
½ cup (125g) reserved pineapple juice
¼ cup (55g) brown sugar
¼ cup (56g) rice vinegar
2 tablespoons (34g) ketchup
2 tablespoons (28g) soy sauce
1 tablespoon grated fresh ginger
2 teaspoons Sriracha sauce
2 lbs (908g) boneless, skinless chicken breast (cut into 1-inch pieces)
4 tablespoons (32g) cornstarch (divided)
1 tablespoon sesame oil
2 medium (253g) bell peppers (diced)
1 medium (150g) onion (chopped)
Instructions:
Drain a 20-ounce can of pineapple chunks in 100% juice, reserving ½ cup of the juice and setting the fruit aside.
In a small bowl or measuring cup, whisk a ½ cup reserved pineapple juice, brown sugar, rice vinegar, ketchup, soy sauce, ginger, and Sriracha in a small bowl. Set aside.
Blot chicken dry with paper towels to remove any excess moisture. Transfer to a small bowl and toss with 2 tablespoons of cornstarch until evenly coated.
Turn the instant pot to the SAUTÉ setting. Once the indicator reads HOT, add sesame oil and swirl to evenly coat the bottom of the pot. Cook the chicken, turning regularly, until lightly browned on all sides – 2-3 minutes. Turn off the instant pot and add bell pepper, onion, pineapple chunks, sauce, and ¼ cup water. Give everything a good stir, making sure to scrape any browned bits from the bottom of the pot to prevent burning.
Cover and lock the lid and set to cook on HIGH for 6 minutes (the pot will take 6-7 minutes to get to pressure before the timer begins). When the time is up, carefully release the pressure using the QUICK RELEASE valve. Using a slotted spoon, transfer all the solids to a separate bowl and turn the instant pot to SAUTÉ setting once more.
In a small bowl, combine the remaining 2 tablespoons of cornstarch with a little of the sauce from the pot to make a slurry. Add the slurry to the pot and cook until the sauce is thick and bubbly – about 2-3 minutes. Press CANCEL to end the SAUTÉ function and add the chicken back to the pot. Stir to coat.
Serve hot with rice or cauliflower rice and garnish with green onions and sesame seeds, if desired (macros not included).
Notes:
To make this dish gluten free, simply replace soy sauce with tamari.
To adapt for a slow cooker or crockpot, brown the chicken in a separate pan before adding to the pot with veggies and sauce. Cover and cook on LOW for 3 ½ – 4 hours. In a small bowl, combine 2 tablespoons of cornstarch with ¼ cup sauce from the crockpot to make a slurry. Add the cornstarch slurry to the pot and cook on HIGH until the sauce is thick and bubbly (about 30 minutes).
Vegetable or coconut oil may be used in place of sesame oil, but we recommend the sesame if you can find it. It's usually available in the international section of most grocery stores and definitely adds to the overall flavor of the dish
Leftovers may be kept in the fridge in an airtight container for 4 days or in the freezer for up to 3 months. If heating from frozen, allow chicken to thaw in the fridge overnight.