These crisp and crunchy noodle bowls are inspired by classic spring roll ingredients and are served with a zesty peanut sauce.
Servings: 4 servings
Serving Size: 1 bowl (321g)
Prep Time: 10 minutes
Total Time: 15 minutes
Nutrition Facts: 283 calories / 33.5g carbs / 17g protein / 9.5g fat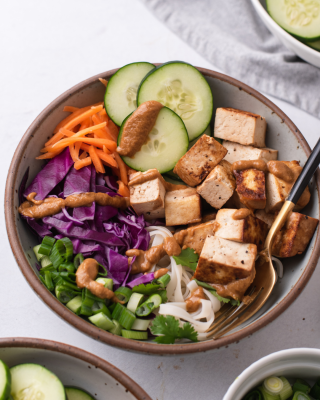 Ingredients:
Bowls:
4-ounces (114g) dry linguine rice noodles
16-ounces (420g) extra firm tofu (drained and cut into 1 inch cubes)
1 tablespoon (14g) reduced sodium soy sauce
1 large (309g) cucumber (sliced)
2 cups (152g) shredded purple cabbage
¾ cup (68g) matchstick carrots
½ cup (36g) scallions (sliced)
Freshly ground black pepper, to taste
Fresh cilantro, for garnish
Peanut sauce:
2 tablespoons (28g) reduced sodium soy sauce
2 tablespoons (32g) creamy peanut butter
1 tablespoon (14g) rice vinegar
Instructions:
Cook noodles according to package instructions. Drain and set aside.
Heat a large non-stick skillet over medium-high heat. Spray with non-stick cooking spray. Once hot, add cubed tofu.
Drizzle tofu with 1 tablespoon soy sauce. Sprinkle with freshly ground black pepper to taste.
Cook tofu for 4-5 minutes total. Turn with a spatula when golden.
To make the peanut sauce, add the peanut butter, 2 tablespoons soy sauce, and rice vinegar to a small bowl and whisk until smooth.
To assemble the spring roll bowls: Divide bowl ingredients evenly between four bowls and top with peanut sauce. Garnish with cilantro, as desired.
Notes:
An equal amount of tamari can be used to make this recipe gluten-free.
If a higher protein meal is desired, consider using a high protein tofu such as the one available from "Wildwood Organic" or "Trader Joe's".