Can you say wonder bread? This is your new go-to for wraps, quesadillas, sandwiches, pizza crust, or just to eat as a snack! Filled with garlicky-goodness, there's plenty of flavor all on its own. And did we mention there's only 5 ingredients?
Servings: 8
Serving Size: 1 flatbread
Prep Time: 15 minutes
Total Time: 45 minutes
Nutrition Facts: 116 calories / 22g carbs / 6g protein / 0g fat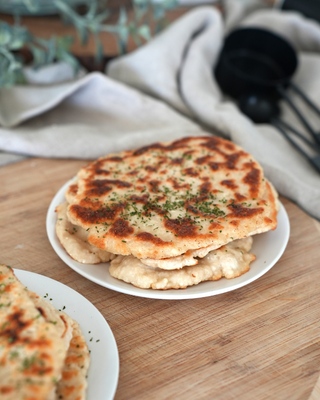 Ingredients:
1 ¾ cups (210g) all purpose flour
1 ½ teaspoons baking powder
½ teaspoon salt
10 oz Chobani plain nonfat greek yogurt
1 teaspoon minced garlic
Instructions:
Mix the flour, baking powder, and salt together in a bowl.
Mix the yogurt and minced garlic in a separate bowl, and then add the dry mixture.
Form the dough into a ball. It might seem a little dry at first but keep mixing until it comes together! As soon as it does, be careful not to overmix.
Cut the dough into 8 separate, even pieces and roll each one flat. These can be as thick or big as you prefer!
Spray a pan with non-stick cooking spray and cook the bread dough on each side for about 2 minutes or until it puffs up and gets golden brown.
Sprinkle with garlic salt, or your other favorite herbs like dill, parsley, or rosemary!
Notes
Make ahead and store these in an airtight container in the freezer for up to 4 weeks.